It's a day one hunter will never forget, as he relives being attacked by a grizzly bear.  As we move into this year's bow hunting season, Tom Sommer says he wants to share his story as a warning to other hunters.
After bow hunting in Montana for seven years Sommer had never seen a grizzly bear before, but on that trip two years ago with his hunting partner Day, he saw seven grizzlies in just three days.
And one got too close for comfort.
"Dan pulled his bear spray and I pulled mine but I was so unfamiliar with using it I didn't pull the safety off of it," Sommer said.
A year after the attack, Sommer went back.
"We flew out last year," Sommer said, "We found the attack sight and the bear never returned to bury the dead elk and the bones were still there. And the bandages were even in the same pile that we had left them in the year before."
Sommer took a video of himself walking though the attack step by step.
"I pulled my gun to confront the bear, he knocked me over and you can see where somebody was wrestled on the ground here. Then he got up and backed up around this tree and shot him right here," Sommer explained in the video.
Sommer says the only reason the bear left was because his hunting partner was able to deploy his bear spray. From there, they rushed to the hospital partly on the back of a mule.
"I got hit at 8 o'clock in the morning, we got to the hospital at 2 and they stitched on me until 7 o'clock that night," Sommer said, "I ended up with 90 stitches in my head and [the bear] fractured my skull here and right here." Sommer pointed to his head behind his right ear and near his left temple.
After getting stitches on his head, in his nose, on his arm and on his leg, Sommer said the nurses told him he is lucky he made it.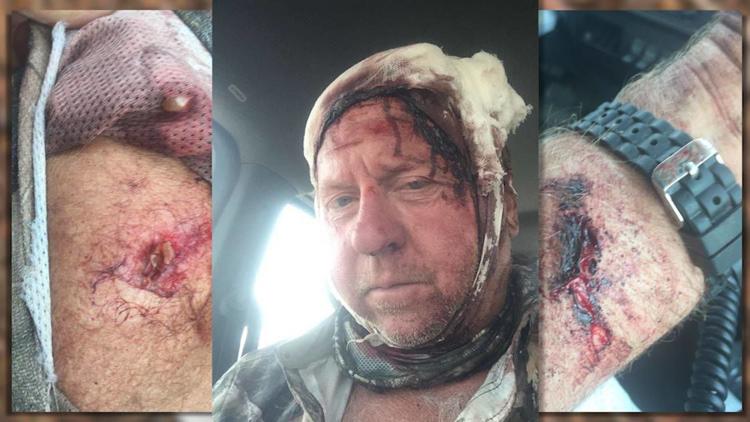 "What would I do different? ... I would be more familiar with the bear spray, but my gun will be pulled a lot quicker next time too," Sommer said.
You read that right, Sommer said "next time."
"I'm definitely not finished elk hunting and I don't really begrudge the bear because he was just doing what bears do," Sommer said.
The Montana Fish, Wildlife & Parks recommends that hunters always carry bear spray and know how to use it when traveling in backcountry, If you see a bear, do not run away but back away slowly and stay calm.