MISSOULA - It's a sight, and sound, unlike any other: dozens of tuba players convening at Missoula's Southgate Mall for the annual 'Tuba Christmas' concert.
ABC FOX Montana's Angela Marshall takes you there and explains how 'Tuba Christmas' gives love to these often-overlooked instruments.
******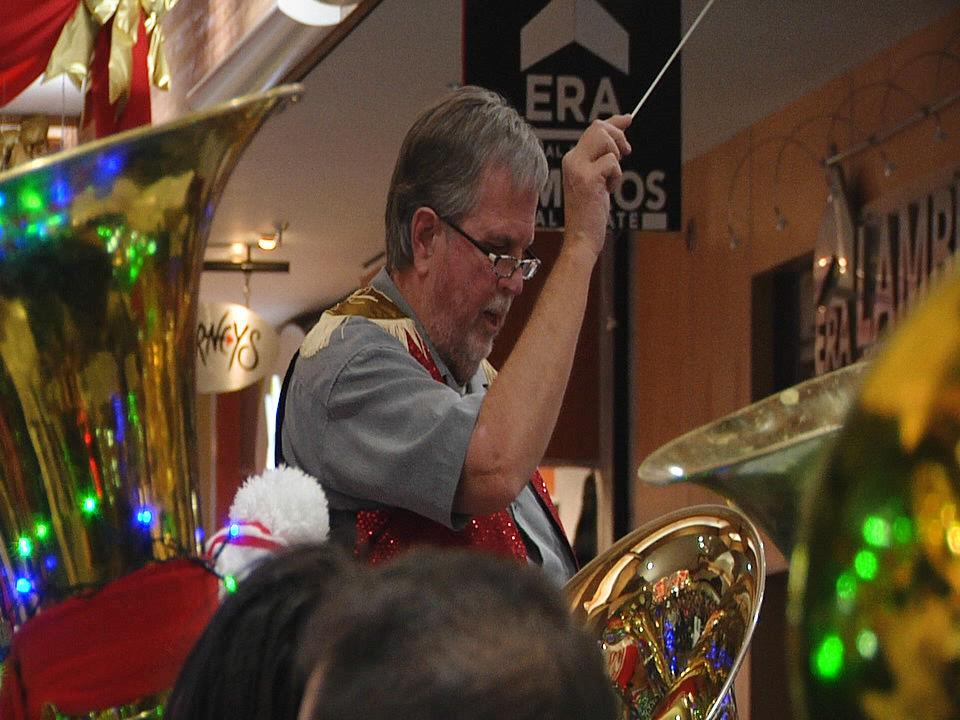 Tuba players, euphonium players, baritone players and more...
All decked out in lights and tinsel...
All playing familiar holiday songs.
Gary Gillett, christened 'Tuba Santa' so to speak, started 'Tuba Christmas' in Missoula 30 years ago.
"I did it to promote all things tuba, because I was a high school band director and to help my students and their musical repertoire," says 'Tuba Christmas' Conductor Gary Gillett. "And they'd stay in band, because suddenly they were important."
That's because, Gillett says that tubas, and all low-brass instruments, are the stars of the show.
Instead of sitting in the back of the band or orchestra, like usual, 'Tuba Christmas' brings these big, bulky, and sometimes scary-looking instruments to the forefront.
"Playing tuba or playing the baselines are the most important aspects of any music. You need to have a baseline. If you don't have a tuba, you don't have a band," Gillett adds. "But it's nice to bring them out from the back occasionally, and that's what 'Tuba Christmas' does... is suddenly, here we are, playing the melody."
He adds that the melody inspires a merry mood, perfect for the holidays.
"It's a very embracing sound. 100 tubas is warm and fuzzy and makes you feel good. There's no stridency to it. There's no sharpness or displeasure to it."
In fact, 'Tuba Christmas' only continues to delight audience members.
Since it's humble beginnings playing for 18 people at The Merc, 'Tuba Christmas' now draws a crowd of hundreds.
"I think that it's so unique that people can't believe it. They can't believe their eyes. And they can't believe their ears."
Gillett says that he can't take all the credit.
His mentor, World-Class Tuba Player Harvey Phillips, got the crazy notion to create 'Tuba Christmas' in 1974 as a way to honor his former teacher, William Bell.
Bell was born on Christmas Day.
Forty-six years later, 'Tuba Christmases' take place all over the world, featuring hundreds of musicians who are a mixture of old and young.
"The tuba is big and loud," says Grace Daniel, who is a senior at Big Sky High School. "And I'm big and loud."
DJ Jackson, a junior at Butte High School, adds, "It's the higher instruments that get to play all the melodies. But with us playing the melodies and everybody else, it's a unique sound."
These sounds of brass are so unique that after three decades, 'Tuba Christmas' has caught the attention of the mayor's office.
City Council Member Heather Harp says, "I hear by proclaim December 13 Tuba Christmas Day in Missoula."
'Tuba Christmas,' this week's Montana Treasure.
******
And the bleating of tubas is just beginning!
Gillett is currently in the process of creating a 'Tuba Christmas in July.
Missoula will become one of several stops during the 'Harvey Phillips Big Brass Bash' as they tour of the Pacific North West.