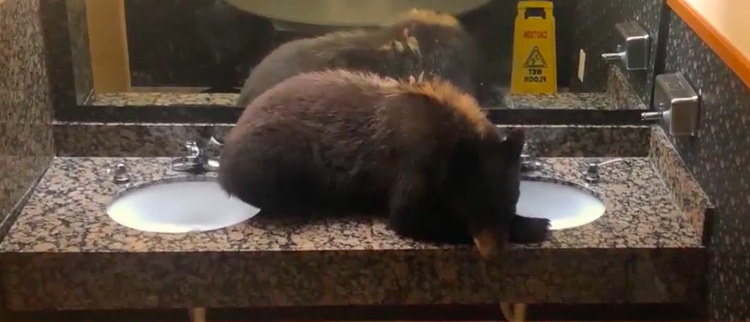 BIG SKY- One hotel in Big Sky had a visitor check-in who definitely wasn't on the reservation list.
Celebrities from all over the world vacation and ski in Big Sky but when a bear decided to check in to Buck's-T4 Lodge it caused a different kind of commotion.
A wild bear found his way into the resort through a window and took a nap, but many think he may have been looking for his mom.
FWP told the owner of the hotel, David O'Connor, that it looked like it was the bears first year on its own.
The hotel has a bear mount in the window leaving them to believe he was trying to make contact with a friend.
"The girls behind the front desk noticed a couple of paws come up on the window right outside where the bear mount is," O'Connor said "and… sure enough, there was a young yearling bear with his paws up on the window looking up at the mount."
Now the bear moved fast according to O'Connor, he worked his way down the wall and into the next window and that was the bathroom.
"The damage was fairly minor, he did fairly well destroy the window on the way in," O'Connor added.
Some work needed to be done to fix the bathroom, you can still see something left behind from the bear.
"One clue that made us think he was heavier than we thought was as soon as he settled on the counter that immediately cracked down the center," O'Connor added.
The bear was tranquilized and released back into the wild.
FWP says if you run into a bear, always maintain a safe distance, stay calm, behave in a non-threatening manner.
You can get more information on what to do if you run into a bear here.