BOZEMAN- A Bozeman Girl Scout has spent the last several days stuffing boxes as a thank you for our veterans.
Dakota Dallman is a regular face at the Montana State University Veterans Center. She is friendly with a few of the veterans and knows the advisor of the center pretty well. 
She explained there are 500 student veterans on Montana State University's campus and around 250 of them use the veterans center every day.
Come Tuesday morning, they will come in to find a very special treat from Dallman.
Boxes of treats homemade by the local Girl Scout. For Dallman, Veterans Day reminds her of her family. 
"My grandpa Dale was a Marine," Dallman said. 
So stuffing treats into boxes for the veterans at MSU reminds her of the people she loves the most.
"I come from a long line of people who have served our country," Dallman said, "this is my way of doing my part to thank them."
Dallman has made a tradition of bringing treats to the veterans.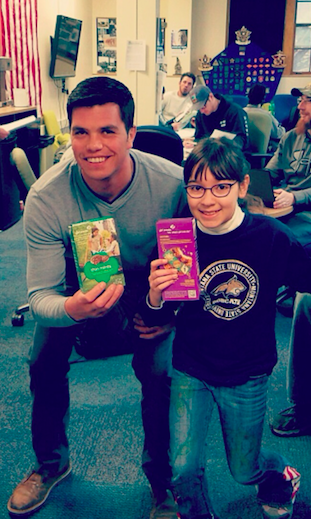 "I have been doing things for the veterans for about five years now," Dallman said, "I think it's a good idea to support the veterans because they and their families give up so much to serve our country."
Dallman speculates she will make around 10 boxes of goodies and she thinks the treats will be gone by next Tuesday.
"It's fun to think about how much enjoyment they'll get out of these boxes I am making," Dallman said.