BOZEMAN- In November 2018, Bozeman voters approved the sale of bonds to fund the construction of the new Bozeman Public Safety Center as the Law and Justice Center becomes more and more crowded.
The center will be the new home of the Bozeman Police Department, Bozeman Fire Station #1, Municipal Courts, Prosecution and Victim Services.
"The new fire station is going to have rooms for a growing staff, rooms for area of a growing apparatus fleet, there's going to be five bays and it's going to go directly out to Rouse Avenue, they'll also have access to Oak Street, so I think it's going to open up kind of the downtown area for more development and it's going to give the fire department room to grow as well," Bozeman Assistant City Manager Chuck Winn said.
The new three-story, 95,000 square foot facility looks to address the impacts of the rapidly growing area along with giving some elbowroom in the currently overcrowded Law and Justice Center on South 19th Ave.
"The call volumes with our police and our fire departments are increasing as the population increases so the facilities that we built in the early 60's we made them work for a lot of years but as the community grows, our police and our fire departments grow, the facilities that they operate out of need to grow as well," Winn said.
The Bozeman Public Safety Center is being constructed on the old Montana Department of Transportation maintenance yard at 901 North Rouse.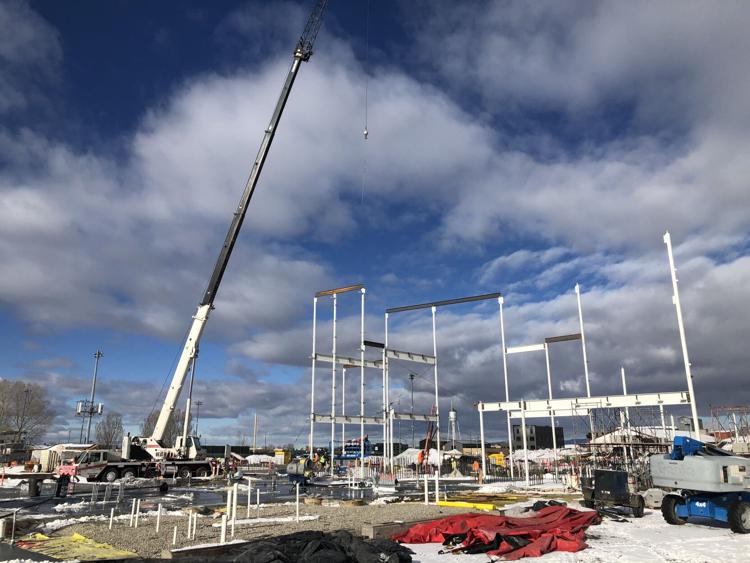 Work began in early summer 2020 with the installation of stormwater collection and treatment facilities, underground utilities and the footings and foundations for building along with the removal, recycling and repurposing of 12 buildings on the site.
Winn said the completion of the project is on schedule and planned for April 2021.
More information with frequently asked questions and updates on the project can be found here.