BOZEMAN- The Gallatin County Board of Health's Nov. 6, 2020, meeting lasted five hours and came to a decision to impose new COVID-19 restrictions.
Closing time for bars, tasting rooms, distilleries, casinos, and restaurants at 10 p.m.
Limiting group size at tables to 6 people unless children are under 18 with parent or guardian.
Requiring higher-risk businesses such as gyms/fitness centers, places of assembly, bars, restaurants, distilleries, casinos to limit patrons to 50% of capacity
Limit most physical group outdoor/indoor gatherings to no more than 25 individuals regardless of the ability to physically distance
Gallatin County Health Officer Matt Kelley's report started off with a summary of daily and weekly COVID-19 trends in testing.
The Gallatin County daily and 7-day average of COVID-19 tests being positive are at 19.7% and have been doing an average of around 500 tests per day according to the latest numbers. The World Health Organization recommends below 5% as a criteria for re-opening businesses.
The greatest increase in COVID-19 cases in Gallatin County are from the age range of 20-29.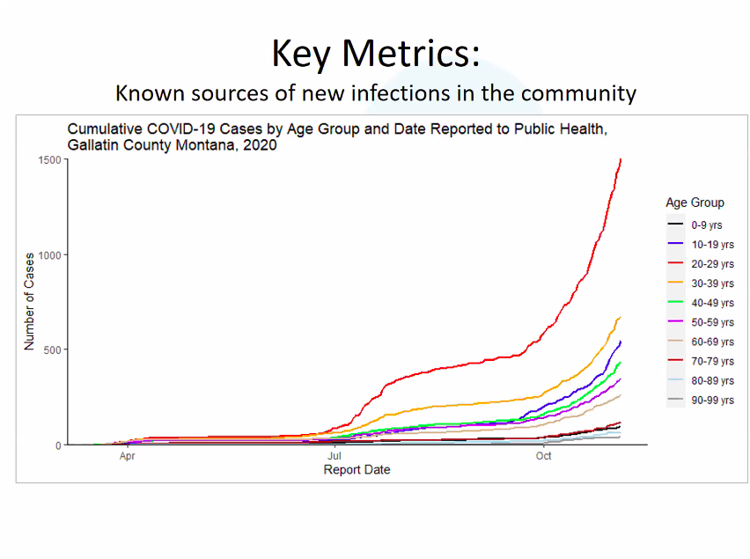 Kelley mentioned his talks with Montana State University officials from the day before talking about how quarantine and isolation housing was almost at capacity and preparing for the possibility of them being overwhelmed.
One board of health member asked Kelley if there was scientific data or a reason backing up the possible revision for the mandatory time change of certain businesses from 12:30 a.m. to 10 p.m.
Kelley responded, "The more time you have, the more alcohol people have in them, the more difficult it is to maintain that... the idea is your reducing exposure and with that there's a legitimate concern they will go elsewhere to house parties."
The end of the report and slideshow presented pictures of people who had passed away due to complications from COVID-19.
The Gallatin County Health Board said they received around 400 written public comments and limited people to three minutes of public comment at their meeting.
Public comment lasted more than two hours ranging from being in agreement to the proposed restrictions as well as being against the proposed restrictions.
Other comments came from business owners in the county talking about how it will hurt them and their employees financially as well as on mental health complications due to any new restrictions that could affect business. 
There were a few comments criticizing the ending portion of the slideshow along with comments on schools being open and how that differs from businesses.
A few comments were cut off by the board because they were not seen as being a part of the civil discourse.
Kelley began addressing the public comments dealing with the Bozeman School District concerns.
"It is not the job of the board of health to decide on the instructional model of education that schools are using... if there is a specific instance where closing schools can help public health that's where we step in," Kelley said.
The most up-to-date information on local COVID-19 numbers can be found here on the GCCHD website.