GARDINER- The fire that ripped through downtown Gardiner on July 15, 2020, destroying several businesses is leaving lasting effects on the small town that relies heavily on tourists during the summer.
Rosie's Bistro, Red's Blue Goose Saloon and many other businesses remain untouched and in a rubble of debris.
"I'm being told to have patience and that's tough," Kari Vondra, owner of the Gardiner Pharmacy and Yellowstone Perk, said.
Local authorities are telling business owners to wait before starting to rebuild as demolition crews still need to go through the half-standing buildings to declare the area safe.
"We're trying to fill prescriptions for the patients in Gardiner through our Livingston location while we look for a temporary location for Gardiner," Vondra explained.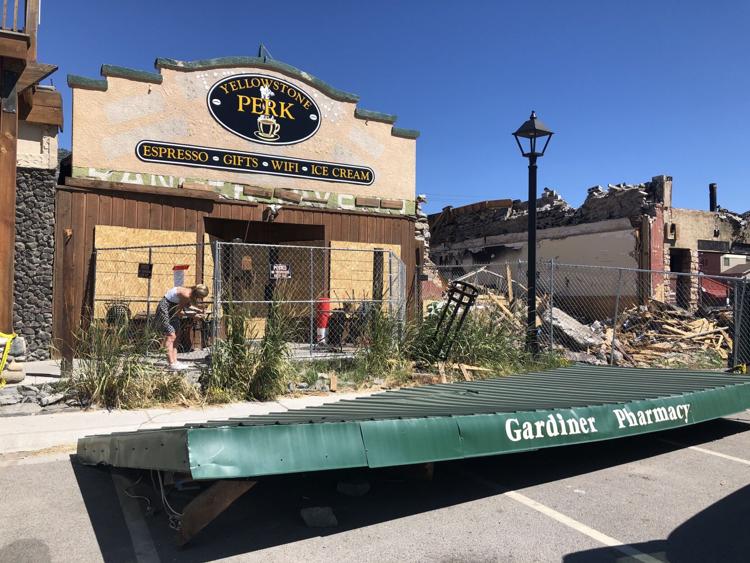 Chuck Tanner owns the K-Bar and is the proprietor of the Two-Bit Saloon that is almost completely in ashes.
"For the community it's tough because you know we're still going through COVID, but we just came out of the two-month complete shutdown and now is the time when the tourism hits," Tanner said. "All those dollars are not being received into the community which makes it tough."
A line of cars waited to enter into the north entrance of Yellowstone National Park. The line was so long that it ended up wrapping around the rubble remains of Rosie's Bistro and the Two-Bit Saloon.
A sense of normalcy in Gardiner is a thing of the past, but what hasn't changed is the small-town, tight-knit support from the community.
"Well I can tell you that the Gardiner community has been absolutely amazing, I think they've been super supportive in hoping that we can get something up and rolling, they've been supportive of the mailing that we've been doing to try to get them they're prescriptions," Vondra said about her pharmacy.
Nomad Taco was one of the lucky ones pulling their taco truck out of harm's way and relocating to their original spot in Emigrant, Montana.
"Folks from Gardiner have come up to get tacos again and said they missed us being down there, our local friends here they really rallied up and got us right back into business so yeah it's been fantastic," Jason Mayfield, owner of Nomad Tacos, said.
For now, it is a waiting game for the people of Gardiner, but Tanner thinks they will be able to get through it.
"You know one day at a time right now we're concentrating on taking care of the employees, taking care of the guests and tourists we have in town because that's what makes this great little town great."
Many of the fundraiser to help those displaced by the fire are now over, but business owners say making a donation to the local food bank can help in a big way. More information on the Gardiner Food Pantry can be found here.