GARDINER- Businesses along Main Street continued to smolder on Thursday, July 16, 2020 as fire crews continued cleaning up the area.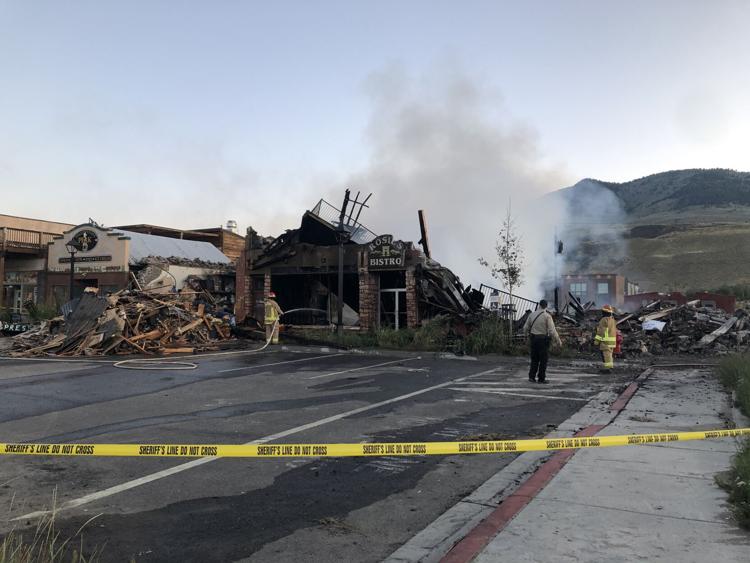 Local business owners, residents, and even tourists entering Yellowstone National Park took pictures and shared stories about the devastating remains in front of them.
Jim Peaco, a Yellowstone National Park photographer, has lived in Gardiner since the '80s and said, "These businesses were a part of mine and lots of other people who lived here, it'd be a place to go and socialize with friends and neighbors, see a playoff sporting events, if your team made it, and yeah it's just real sad."
Jason and Britney Mayfield, owners of Nomad Taco, along with two Park County officers hitched up their taco trailer while smoke billowed into their lot alongside destroyed Two Bit City. 
"I heard last night that Calamity Jane and Wild Bill once spent time at this bar," Jason Mayfield said looking at the rubble remains of Two-Bit saloon.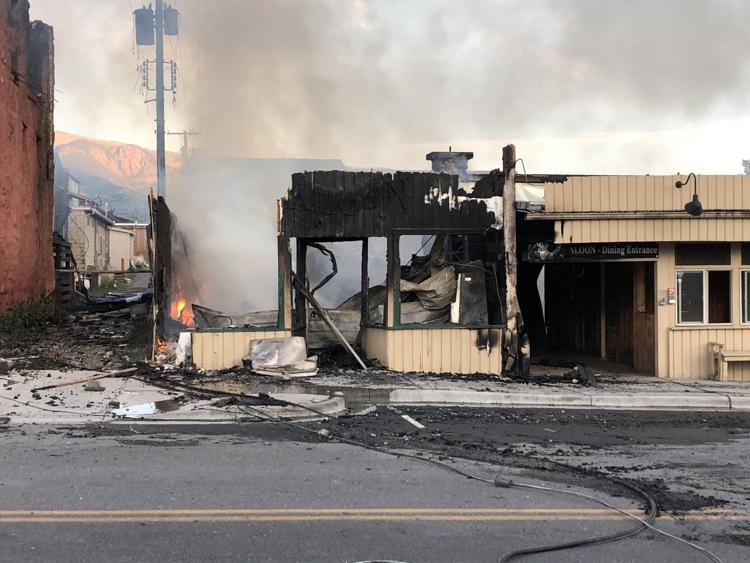 The downtown fire in Gardiner rocked the residents of this small town leaving several businesses in ashes.
Yellowstone Raft Company, Rosie's Bistro, Red's Blue Goose Saloon, the Gardiner Pharmacy, and Two Bit Saloon along with an attached residence for employees at Two Bit City were all affected by the fire.
A decision was made to demolish the Blue Goose Saloon that was partly on fire to stop the spread and save businesses down the block as well as save open fields in Yellowstone National Park across the road from catching fire.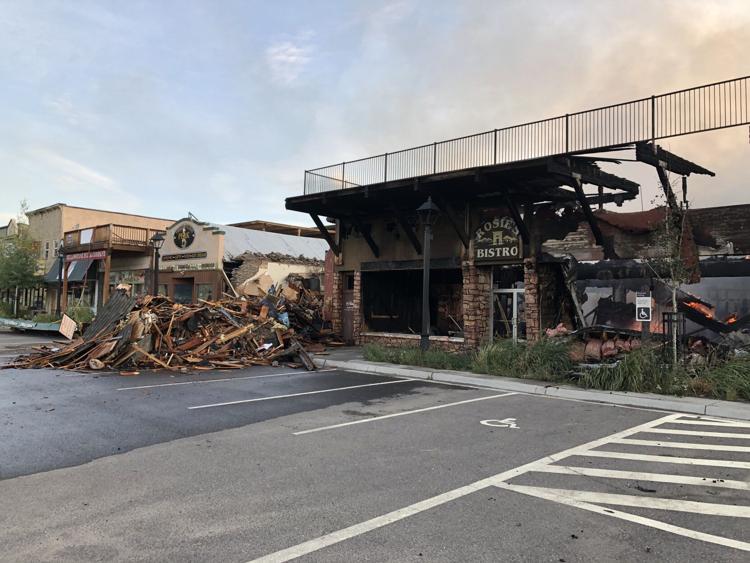 Nomad Taco on Main Street was one of the lucky ones as they were able to move their trailer out once the blaze settled the following morning.
"Our friend Stacy here down at Wonderland Café called about 4 o'clock and said that the Two-Bit saloon was on fire and that some of the staff was going over to our courtyard to see if they could maybe save the trailer," Jason Mayfield, owner of Nomad Taco explained.
Luckily the flames never reached his taco truck.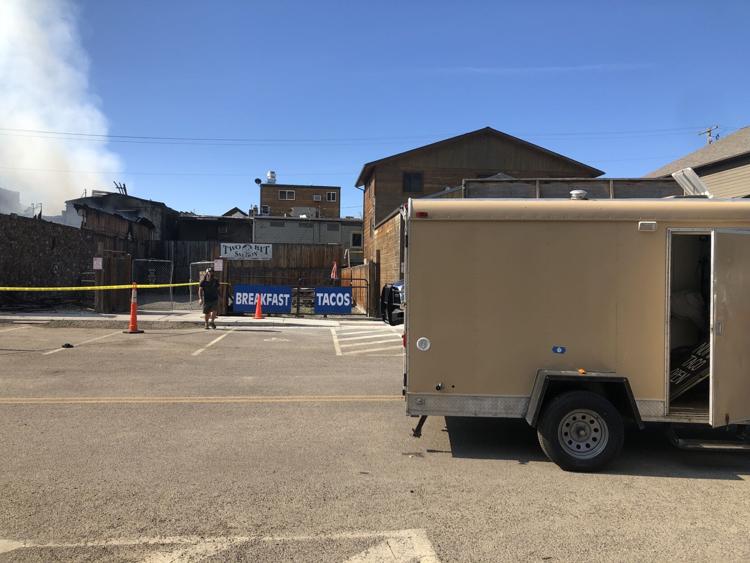 "We opened up just a month ago here, we were really happy and proud to be a part of the community and its sad, but I'm just more devastated about are friends, their loss, it's indescribable," Mayfield said holding back tears.
The Yellowstone Raft Company down the street was one of those businesses lost in the fire. A sign, some banners, and a green raft on the outside of the store was all that was untouched by the blaze.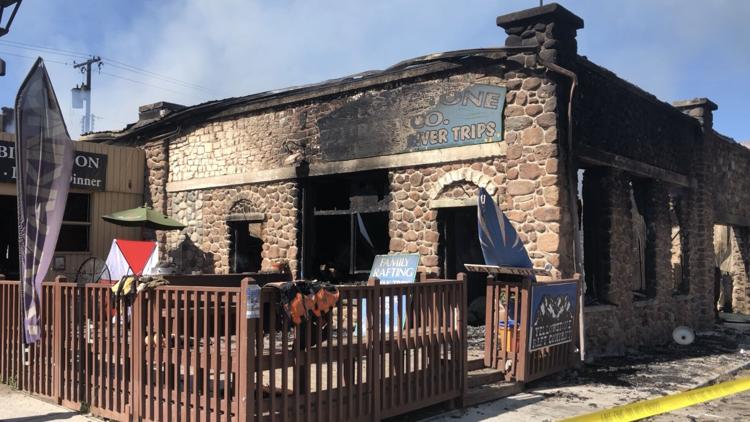 "I'm just trying to put my business and my life together and just keep moving forward and see how we can salvage little pieces here and there," Patrik Ondrus, owner of Yellowstone Raft Company, said. 
Park County Sheriff Brad Bichler said he expects the small-town grit and spirit of helping to show out in Gardiner in the coming weeks. 
"The amount of community members who have been displaced out of these buildings that offered places for people to stay, food it's unbelievable, it's a very strong community and Gardiner will stand back up, no problem," Bichler said.
Several employees of the Two-Bit Saloon as well as Rosie's Bistro lost everything they own at their residence attached to the establishments.
The GoFundMe goal for Two-Bit Saloon employees has surpassed the $7,000 mark while the GoFundMe goal for Rosie's Bistro employees of $14,444 has not.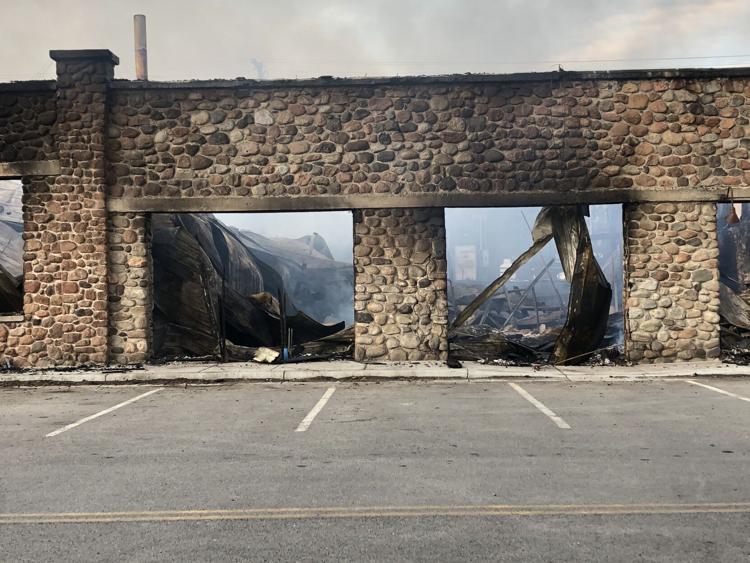 After an investigation, Park County Sheriff Brad Bichler said the fire originally started in the kitchen of the Two Bit Saloon and spread to Yellowstone Raft Company, Red's Blue Goose Saloon, and Rosie's Pizza and Rosie's Bistro.