BOZEMAN, Mont.- Two local nonprofits, Community Health Partners and Family Promise of Gallatin Valley broke ground on a joint effort to build new facilities to expand services to people in need.
The new community development east of the intersection of Sacco Drive and Tschache Lane is looking to answer the growing need for affordable housing, healthcare and childcare in the growing community.
The collaboration also includes the Human Resource Development Council (HRDC) and is part of a larger, affordable housing community development by GMD Development built by Rotherham Construction and designed by Intrinsik Architecture.
More than 230 affordable homes will go up along with a new medical clinic and space to expand services to vulnerable families in the community.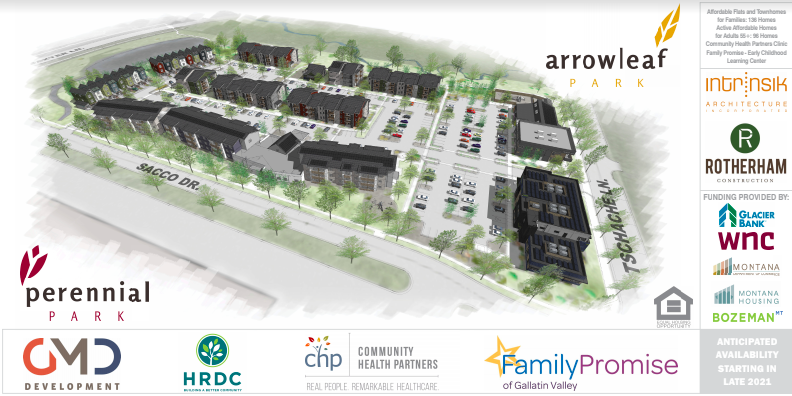 Family Promise's demand for services has doubled over the last three years and they anticipate serving over 54 local families by year end.
Community Health Partners has seen similar growth and now serves nearly 12,000 patients during 41,000 visits annually.
Neither group said they could keep growing because of high land and construction costs to replace their current undersized facilities so they have fundraised and collaborated on this joint project.
The new Community Health Partners medical clinic will include 10 exam rooms, eight dentist operating rooms, a designated behavioral health wing, and a retail pharmacy.
Family Promise's early childhood learning center will have space for close to 100 children from infants to preschoolers.
Chase Rose of the Bannack Group, LLC a strategic consulting company, said the community development is an 11-month project to be done by the end of this year.
"What's behind us is just a construction site but over the next year it's going to morph into our community's hub for accessible medical, dental, and behavioral healthcare along with services that directly combat family homelessness," Rose said at the podium in front of the groundbreaking ceremony.
Both organizations have launched fundraising efforts to fully pay for their individual buildings.
As of Jan. 21, Community Health Partners has secured $4.6 million of its $5 million goal while Family Promise has raised $4.02 million of its $6 million goal.
More information on Community Health Partners can be found here.
More information on Family Promise of Gallatin Valley can be found here.