BOZEMAN- Major roadwork is nothing new during summers in Montana, but streetscapes improvements on N. 7th Ave. are currently weeks behind and affecting local businesses.
Roadwork on 7th Avenue started July 20, 2020, for improvements to the right of way between the curb lines and the front portion of properties.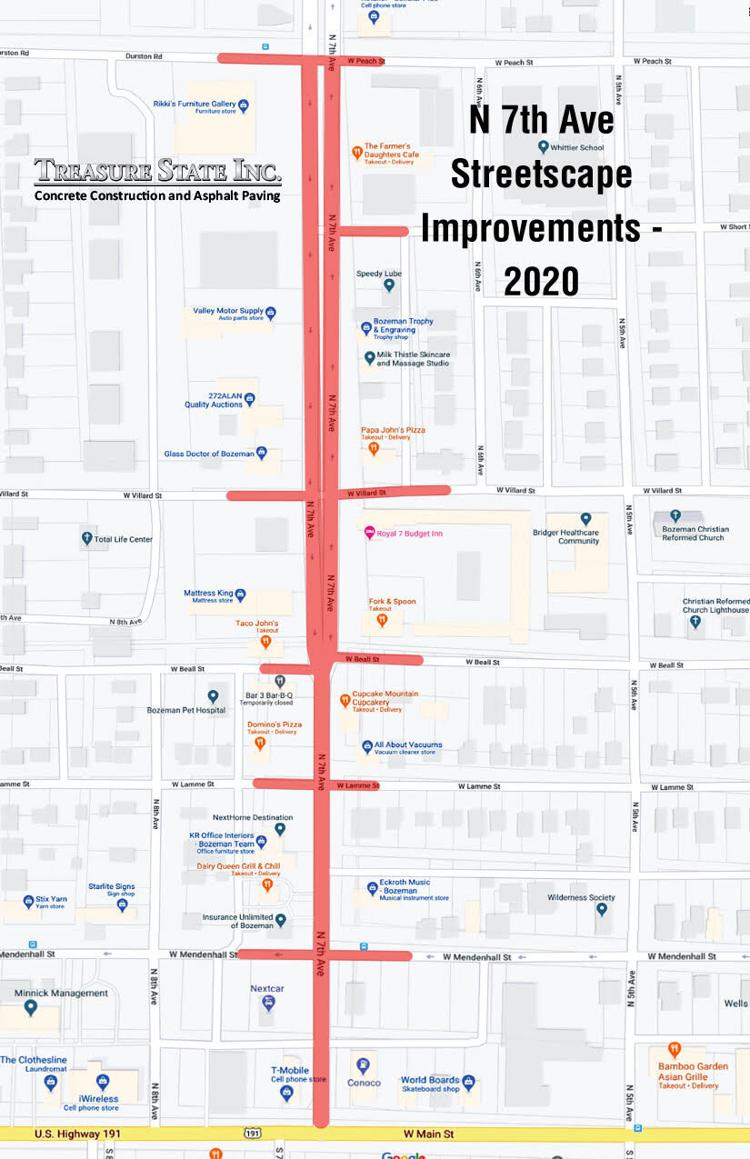 Both sides of 7th Avenue between W. Mendenhall St. and Durston Road/Peach St. currently have bathtub size cutouts reducing traffic to one lane for more than a month.
According to the city of Bozeman's Director of Economic Development Brit Fontenot, the streetscapes improvement project is part of the Midtown Urban Renewal Action Plan.
"North 7th is a street but Midtown is a place, and the idea that we're carrying forward through the midtown urban renewal action plan is trying to invest in public infrastructure that helps to improve the conditions along the corridor that invite people in to basically do commerce in the area," Fontenot explained.
Treasure State Inc. General Manager Ty Giffin said they are behind schedule because of unforeseen obstacles like utility lines in the landscaping part of the project.
"We're probably a couple of weeks behind, two or three weeks behind schedule, we should be able to catch up here in pretty short order cause we're actually planning on machining the sidewalks which will really please the business owners," Giffin said. "What I mean by machining is we can install quite a bit of sidewalk in a day and it will really help speed up the process."
Two business owners on 7th Avenue who did not want to be named said the road work is affecting them in a negative way right now, but Fontenot said its all part of a long-term plan to help out the Midtown district of Bozeman.
According to Giffin the cost of the whole project is just under $3.5 million.
Giffin said the progress will start looking more finished by the end of September once sidewalks are in place, but you should still expect traffic around the area until they are all done in the coming months.
Be sure to give yourself time if traveling around the area on your daily commutes. Motorists should expect delays and are encouraged to take alternate routes.
Watch for signs, workers and equipment in the area and a reminder that fines double in work zones.
More information on the Midtown Urban Renewal Project can be found here.