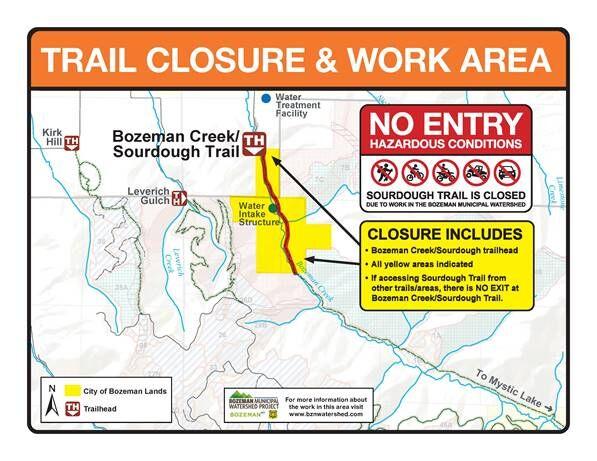 BOZEMAN, Mont. - The popular Sourdough Canyon Trail area will be closed on Oct. 11 for four weeks as helicopter work begins on City of Bozeman land.
The trail and project area will be closed to all members of the public. 
City of Bozeman Assistant Manager Anna Rosenberry said, "There will be foresters in the area and we will be removing forest fuels trees using helicopters and because there will be helicopters flying over the trailhead with logs we really need to keep people out of the area for their own safety."
The closure and the associated work are a part of Phase 2 of the City's Sourdough Fuels Reduction Project, which is part of the joint Bozeman Municipal Watershed Project.
This project is also in partnership with the Custer Gallatin National Forest. 
The city of Bozeman said the BMWP is a joint effort to reduce forest fuel loads with the intent of maintaining a high-quality and predictable community water supply for Bozeman residents.
"The trail closure is going to allow us to get some critical work done that is going to reduce the possibility of forest fire in our watershed area. This is key to protecting the safe clean drinking water," Rosenberry said.
Community members are expected to follow trail closure rules and watch out for signage.
More information on the Bozeman Municipal Watershed Project and updates on ongoing implementation activities can be found here.
For additional questions about the project, residents can contact the City of Bozeman or the Custer Gallatin National Forest here.