BOZEMAN, Mont. - Thousands gathered in Bozeman on Friday afternoon to support the Black Lives Matter and indigenous lives movements.
In a scene that likely won't leave the minds of many in Bozeman for years to come - as many as 5,000 people lined along Main Street in a show of peaceful solidarity with the black and indigenous members of the community before taking nearly ten minutes of silence to recognize the death of George Floyd, a black man who died after being held under the knee of a white Minneapolis police officer in May.
It may well have been the largest rally of its kind in Bozeman's history. A Bozeman rally held just days before on Sunday in support of black and indigenous lives drew in 1,000-1,500 people. Masks were required at both events and anyone who did not bring a mask was able to get one from organizers.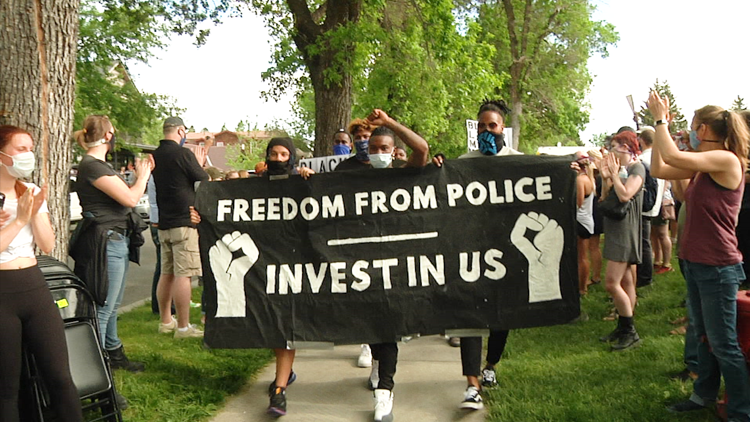 The event was peaceful from all reports, as thousands made their way from Bogert Park to downtown Bozeman, lining the block and asking local businesses to promise to keep racism out of their stores. More than 30 businesses signed the Freedom Pledge, with more expected to sign it in the coming days. Organizers emphasized that they did not condone any kind of boycott on businesses that did not sign the pledge.
Attendees at the rally held handmade signs, with phrases like "Support Black Bozeman,"Freedom Over Fear," "No Justice, No Peace," and many including the names of BIPOC (Black, Indigenous, and People of Color) men, women, and children who have been killed in the United States in recent years. Perhaps the most popular sign read "Black Lives Matter."
Taylor Tuiasosopo, a Montana State University senior and Bozeman resident, says that that phrase specifically is necessary right now.
"It's important, a lot of people then get offended by the phrase of 'black lives matter.' They feel a sense of entitlement to, 'Well, does ours not matter?' We're not saying that nobody else doesn't matter," he explains. "But just look on the news. When you see the racial injustice that's been going on... what's the common factor between all those people that've been victimized?"
Americans have seen protests, rallies, and riots around the country every day for eleven days since Floyd's death, but organizers of Friday's rally say that while these demonstrations are essential, efforts to change systemic racism cannot stop after a few days of work.
Tuiasosopo reiterated the organizers' message.
"This isn't just a wave, this isn't just a phase the country's gonna go through," he said. "If we really want to see change, this has to be consistent day-in and day-out. We need to see change happen every day. And not just in big, vocal places that you're recording. It's the little things, you know? You see somebody at the grocery store, treat 'em the way you want to be treated. It's the golden rule we're all taught when we're like three years old."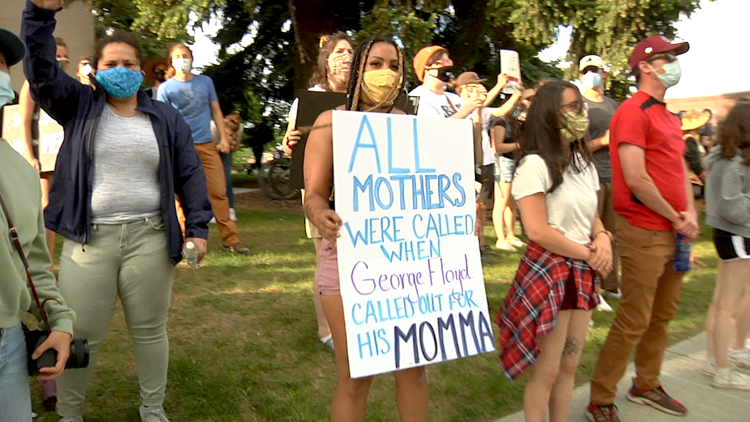 The rally continued for close to an hour after it had been scheduled to end, with organizers saying they hadn't anticipated the overwhelming response.
At the end, protesters silently knelt and sat in solidarity – with their hands held up in fists – for nine minutes in memory of George Floyd, who died shortly after Minneapolis officer Derek Chauvin knelt on Floyd's neck for 8 minutes and 46 seconds. Chauvin has since been fired and charged with second-degree murder, and the three other officers involved in Floyd's detainment have been fired and charged with aiding and abetting second-degree murder.
The groups in charge of organizing the rally say they plan to do more events in the future.