THREE FORKS- Karen Rose lives on the unpaved portion of Buffalo Jump Road where she sets out two little red wagons filled with homemade cookies, dog treats, and water.
"I noticed that a lot of people are taking their dogs to the Buffalo Jump so I thought 'well shoot they should have dog treats' and then I have water because there's no water for probably 20 miles," Rose said.
According to Rose anywhere from 10 to hundreds of cars drive by her house kicking up dust on their way to Madison Buffalo Jump State Park. She has the words "Honor" system cookies for $1 on her cooler full of cookies.
This is Rose's fourth year putting out fresh cookies for tourists heading into the state park. One summer she included Rhubarb hand pies with her cookie coolers but chose to stick with peanut butter cookies along with her favorite chocolate chip cookies.
"Chocolate chip probably outsells peanut butter two to one and I'll have people say 'well you should make snickerdoodles or sugar cookies, I said 'yeah I can't get that complicated out here on Buffalo Jump Road,' " Rose said after stating that chocolate chip was her favorite.
On every Ziploc bag filled with a cookie, Karen has a sticker that explains why she really started the whole thing.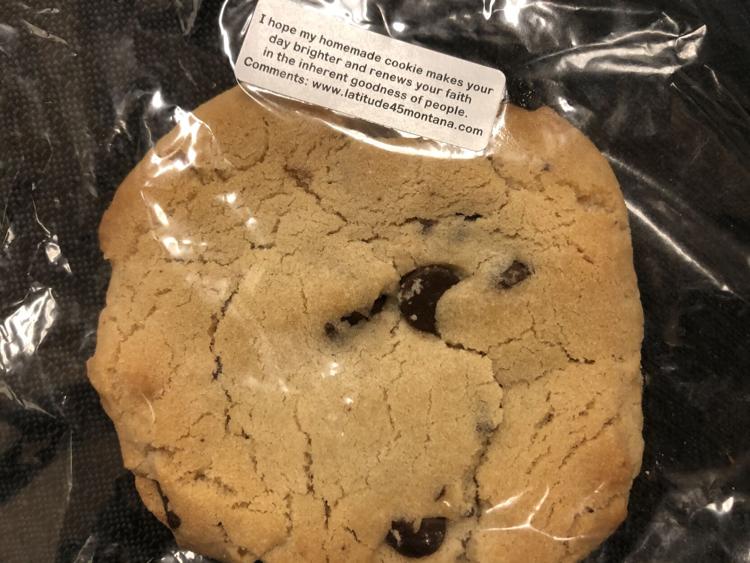 "It's not about the dollar, it's about trying to help people believe in the inherent goodness of people, that people really are good and that's what I believe," Rose explained. "I see someone stop and I don't worry if they're paying me, I get IOU's from people, 'I owe you five dollars next time I drive by' I just rip them up, I don't even know if they ever pay and it makes me feel like I have the ability to bless someone's day."
Rose said that on an average summer day she says she receives more money compared to the number of cookies she put in the coolers for the day, but the notes that are left behind mean more to her.
"It makes me feel like I have the ability to bless someone's day in a very small way and I think that's really a good thing when I wake up in the morning… by having them stop with a surprise and get a really good cookie and take down the road with them," Rose said.
You can find Karen's homemade cookies in the little red wagon at 5353 Buffalo Jump Rd. in Three Forks.