GREAT FALLS - After several social media posts were circulating with unofficial information, Lieutenant Doug Otto with Great Falls Police Department has release new information surrounding a person they believe may have information regarding Monday's school threat.  A letter was placed on the door of Whittier Elementary School Monday morning containing a bomb threat directed at multiple Great Falls' schools and prompted a city-wide shut down of all Great Falls Public Schools, and most private schools.
Police have been canvassing the streets downtown asking if they've seen this man.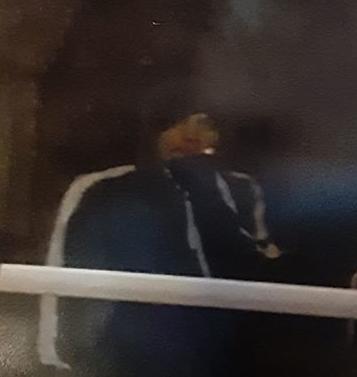 He is described as:
- Light skinned male
- 5'7" to 5'9" tall
- Thin to medium build
- Dark eyebrows
- May have light or sparse facial hair
- Smokes cigarettes
- Wearing dark pants, dark beanie, and bright blue hoodie style jacket with wide white stripes down each arm and a white ¾ length zipper on the front.  
If you have any information that may assist investigators in identifying this person or the person responsible for the threat, please call 406.455.8547, log on to www.P3Tips.com, or leave a private message here. Tipsters may remain anonymous.
This morning school was back in session as normal.  Police continue to ask the community to stay vigilant and report anything that seems suspicious. 
---
Several pictures and pieces of information are being shared across social media regarding Monday's school threats.  Lieutenant Doug Otto with Great Falls Police Department is asking the public to stop sharing what he is calling unofficial information.
Rumors and unofficial information is being shared on social media regarding the suspect in yesterday's threats towards GFPS.  We will be releasing official information today at our 2:30 press briefing.  We are asking that you do not share the unofficial information that is out there and patiently wait until the release this afternoon.  

                 -Lt. Doug Otto - GFPD
We have a reporter headed to this afternoons media briefing and will update this article with any new and official information. 
---
GREAT FALLS- Great Falls Public Schools sent out an alert Monday morning that all schools will be closed Monday, regarding a "threat to multiple facilities."
GFPD and GFPS released this statement Monday morning:
All Great Falls Public Schools are closed today. Early this morning a member of the staff found a message posted at a Great Falls Public Schools (GFPS) elementary school. The handwritten note included threatening verbiage, including a bomb threat, targeting multiple schools in the community.
As the safety of all students and staff is always a top priority for GFPS administrators and Great Falls Police Department (GFPD), the decision was made to cancel all school activities for the day. Several private schools have opted to also suspend activity for the day. It is not believed Cascade County rural schools are affected, rural community members are encouraged to contact their school directly with questions.
The community should expect to see a law enforcement presence, throughout the day, in and around our schools as we continue the investigation. Please do not interfere with the investigation by attempting to contact officers or our dispatch center, unless there is a legitimate medical, fire, or law enforcement issue.
We appreciate the community's cooperation as we recognize this is an inconvenience for all students, parents, and faculty. If anyone has information regarding the threat please call our non-emergency line, 406.727.7688 X5. Please refer to the GFPD and GFPS Facebook pages, the GFPS website, and local media outlets for further information.
During a media conference Monday afternoon, officials said a custodian called about a note found outside of an elementary school at 5:37 am.
"The Great Falls Public Schools and GFPD will act swiftly and decisively to protect our students, our staff, community and property," said GFPS Superintendent Tom Moore, "And once we've identified the sources of those threats, we'll hold those responsible accountable for the very fullest extent possible by law."
Police and law enforcement officials were at Paris Gibson Education Center early Monday morning and meet with the principal and cleared the building so it could be used for childcare. 
Every school in Great Falls was cleared and no suspicious devices were found according to GFPD.
School is intended to continue as normal Tuesday.
Moore also said that he has spoken with the Office of Public Instruction and believes that there can be an "emergency day without penalty," so students and staff will not have to make up the missed day.
Students will also receive excused absences if families believe it is best for the children to stay home. Superintendent Moore added that they will not open schools if they do not think they are safe and secure.
Officials are asking that if you have any information on the suspect, that you call Detective Sergeant Rob Beall at 406-455-8547.
Several private schools were also closed for the day according to the Great Falls Police Department, including:
Five Falls Christian

Our Lady of Lourdes

Central Catholic

University of Providence

Headstart

Treasure State Academy

Foothills Christian

Holy Spirit
GFPD said they believe Cascade County rural schools were not affected, and that people could contact the schools directly for any questions.
Parents were alerted of the closure by a text message and phone calls.
All activities at GFPS schools were canceled for the day as well.
GFPD posted an update asking people to stop calling their dispatch center for information, adding that they will release information as it is available.