UPDATE: DEC. 7 AT 3:43 P.M.
The West Wind Fire is 100% contained, according to Denton Fire Chief and Incident Commander Mike DeVries.
DeVries tells us crews are still providing fire suppression efforts for the grain pile and grain elevator and will continue doing so throughout the week. The total cost of suppression efforts is estimated around $300,000.
Reportedly, no livestock were lost in the fire.
---
UPDATE: DEC. 4 AT 3:15 P.M.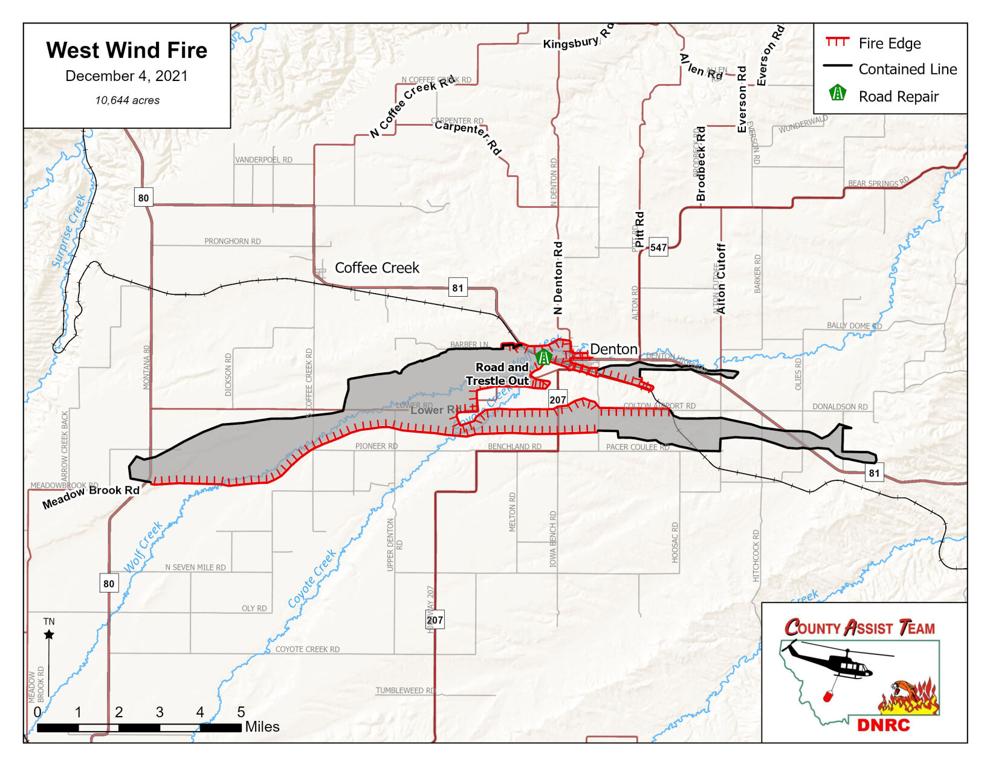 The County Assist Team says they believe the West Wind Fire will be mostly contained by the end of the day.
An update sent Saturday afternoon says the fire is currently 58% contained and 10,644 acres large.
Overnight snow along with significant progress made by crews Friday increased the fire containment according to the update.
Crews will continue mitigation efforts and contain a smoldering grain pipe in Denton.
At a public meeting held Saturday morning, nearly 200 people attended and residents were encouraged to check in on their neighbors to ensure their safety and well being.
The update says the cause of the fire is determined to be a power line.
Other power lines have been re-energized and people are asked to remain cautious of downed and low hanging lines.
If you have needs and have been impacted by the West Wind Fire, you can contact Northwestern Energy at 800-550-4610.
---
UPDATE DEC 4 AT 3:38 A.M.
According to InciWeb the Incident Information System the size of the West Winds fire is 10,644 acres and sits contained 58%.
We spoke with incident command that confirms that overnight things went well for fire crews.
There will be a West Wind Fire Community Meeting 12/4/21 at 10 A.M.
Saturday, Dec. 4th, at Denton High School Auditorium
1200 Lehman Street, Denton, MT
UPDATE: DEC. 3 AT 3:51 P.M.
After receiving an update from Nick Holloway, we've learned that the fire remains at 10,644 acres with 0% containment.
Holloway says containment is expected to go up later Friday or on Saturday. At this time, all evacuation orders have been lifted.
Highway 81 remains closed, due to a burned bridge, and Holloway reminds you to be aware of this if you are traveling into Denton.
A public meeting is scheduled for Saturday, Dec. 4, at 10 a.m. at the Denton High School Auditorium, located at 1200 Lehman Street. All are welcome to attend.
While explaining the devastation of the fire, Holloway also told us that some businesses and secondary structures in Denton were burned, aside from the 25 primary structures lost in the blaze.
At this time, there are reportedly 177 personnel working the fire and mopping up hot spots.
Gov. Greg Gianforte also made a visit to Denton Friday. Holloway tells us Gov. Gianforte encouraged neighbors to help neighbors in this high stress event, especially since this is the third big fire that area has seen this year. Earlier, they battled through the Taylor Fire and the South Moccasin Fire.
"Resources came from all over the state. Had it not been for those resources, the outcome, we think, would've been much worse than what it was. We're happy to say that no fatalities occurred in this fire," he said.
For the time being, you are asked not to venture into the fire area so that crews can continue their work.
---
UPDATE: DEC. 2 AT 6:30 pm:
Command of the West Wind Fire is being taken over by the Montana Department of Natural Resources and Conservation (DNRC) County Assist Team (CAT).
As of an update from the DRNC sent at 6:22 pm Thursday, 33 structures have been reported as lost, including primary residences and commercial buildings.
No deaths or serious injuries have been associated with the fire.
The DNRC says it mobilized the CAT to take over the fire which was briefed in at 10:00 am Thursday and took control of the fire at 1:00 pm.
At this time firefighters are working on suppressing the fire as quickly as possible.
The fire is currently at 0% containment and is mapped at 10,644 acres large.
There are no evacuation orders in place, however, residents are asked to yield to fire response efforts and to allow them to travel unheeded into the area.
Highway 81 entering Denton from the west is still closed.
---
UPDATE: DEC. 2 AT 5:57 pm:
NorthWestern Energy (NWE) sent a release Thursday evening saying they are working with authorities to investigate the cause of the West Wind Fire.
The cause of the fire is still under investigation, however, NWE said the fire appears to have originated from a high wind event involving one of their power lines southwest of Denton.
"Emergency responders and fire departments from throughout central Montana, including multiple volunteer fire departments, worked in extreme conditions and we are grateful for their service and that their efforts prevented serious injuries or loss of human life," said NorthWestern Energy CEO Bob Rowe. "NorthWestern Energy is committed to supporting residents displaced by the West Wind Fire and those who have suffered property losses."
---
UPDATE: DEC. 2 AT 4:27 pm:
After the damage done by the West Wind Fire was assessed in the town of Denton, the Fergus County Sheriff's Office has given the following list of the Denton residences that are a total loss:
1210 Buena Vista
600 Main St
700 Lehman
610 Main St
701 Lehman
612 Main St
702 Lehman
616 Main St
703 Lehman
618 Main St
706 Lehman
716 Main St
710 Lehman
804 Lehman
815 Lehman
819 Lehman
910 Lehman
305 Railroad Ave
505 Railroad Ave
205 Keirstad
207 Keirstad
209 Keirstad
211 Keirstad
201 Ketchner
505 Ketchner
The sheriff's office says a more thorough assessment will be forthcoming.
"We want to express our deepest sympathies to the individuals that lost their house, vehicle or storage buildings," the sheriff's office wrote.
Anyone misplaced by the fire due to the loss of their home is asked to contact the American Red Cross at 1-800-272-6668 or stop by the Civic Center 309 5th Ave. South in Lewistown.
According to the Montana Department of Natural Resources and Conservation, the evacuation order was lifted at noon Thursday and there are currently no evacuation orders in place.
Although residents are allowed to return home, they are asked to yield to fire response efforts and to allow them to travel unheeded into the area.
---
UPDATE: DEC. 2 AT 3:23 P.M.
The Fergus County Sheriff's Office released new aerial photos taken at 11 a.m. Thursday. They show the devastation left by the West Wind Fire so far.
The photos were taken by Sgt. Jeremy Johnson and can be viewed below: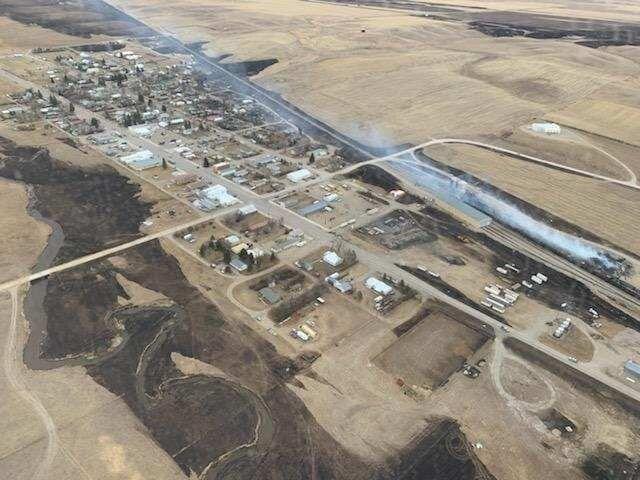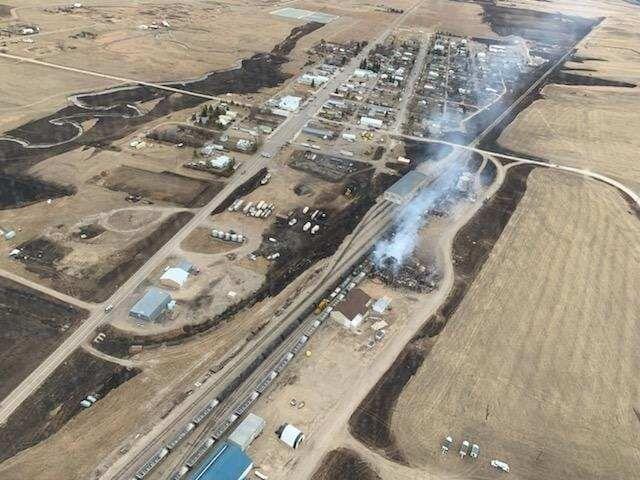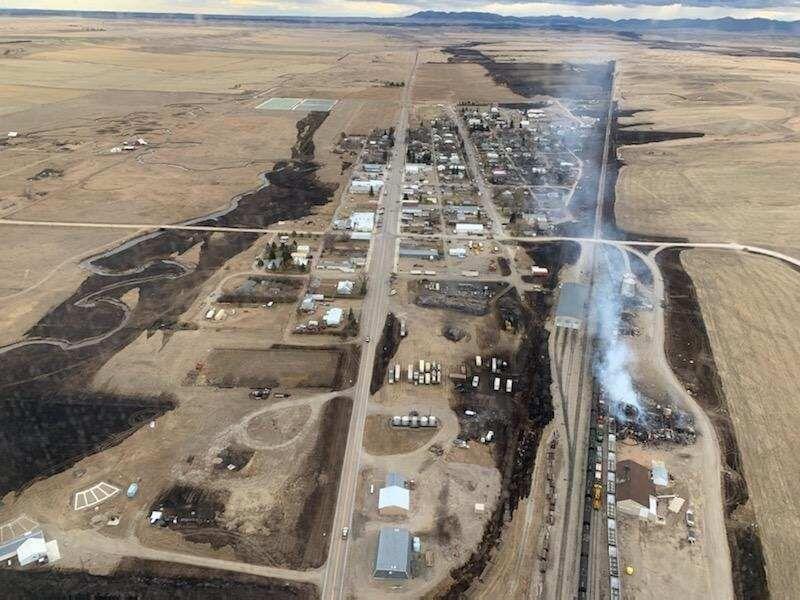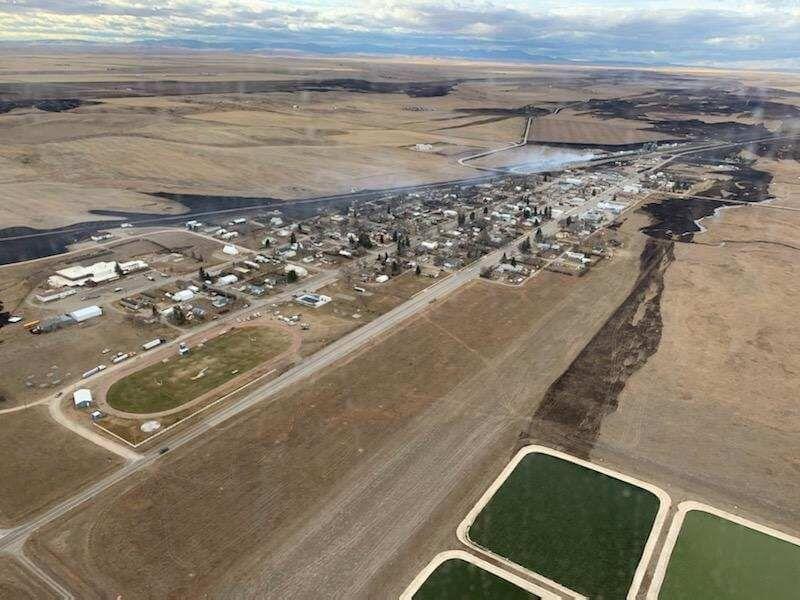 ---
UPDATE: DEC. 2 AT 11:04 A.M.:
Donations are being taken to help support firefighting efforts and local home, business and ranch recovery regarding the West Wind Fire.
Anyone looking to donate can do so by leaving donations at Stockman Bank in Lewistown, or by mailing Montana Winter Fair, PO Box 931, Lewistown, Montana, 59457.
Those sending a donation by mail are asked to make a check out to Montana Winter Fair with West Wind/ Denton Fire in the memo area. You are asked to not mail cash.
Donations can also be made online on Montana Radio's website by clicking here.
A GoFundMe has been set up here with the goal of helping Denton as well.
Troy Downing, the Commissioner of Securities and Insurance, released a statement Thursday to the people of Denton:
"The wildfire in Denton, Montana has destroyed multiple homes and forced the evacuation of all 300 residents. Our agency is ready to help the victims of this tragic fire work with their insurance companies on claims to help rebuild this hard-hit Montana community.
Most homeowner insurance policies will cover living expenses such as hotels and food if you are forced out of your home. So, if you've been evacuated, check your policy or call your agent. It is important to keep receipts and to document any expenses associated with your displacement.
If your home was damaged or destroyed by fire, create an inventory list of your belongings. Search through photos on your phone and social media of your home and property to create a more detailed list and better document losses for your insurance company.
Our agency is here to help you work with your insurance company. If you have questions, reach out to our team at 444-2040 or go to CSIMT.gov.
My prayers are with the people of Denton."
---
UPDATE: DEC. 2 AT 9:38 A.M.
Officials are counting around 25 structures destroyed due to the West Wind Fire, including grain elevators and bridges, in Denton as of Thursday morning.
The Fergus County Sheriff's Office said via Facebook rural firefighters are still working to stop any additional fire spread or damage for the next several days.
Authorities put an evacuation warning in place, and FCSO said they are expecting an update on the evacuation status bu noon Thursday. 
There are still power outages south of Highway 81 as of 9 a.m. Thursday.
FCSO is only allowing essential travel in the area once the community reopens to allow responders to continue to fight the fire. Highway 81 remains closed due to a burned bridge.
No injuries nor deaths were reported in this incident.
"We can replace property but we cannot replace a life," FCSO said in the Facebook post.
The area is still expecting high winds Thursday and FCSO said they encourage community members to remain vigilant of the conditions.
---
UPDATE: DEC. 1 AT 10:33 P.M.
Numerous houses were lost on the southside of town, according to the Fergus County Sheriff's Office.
Thankfully, they say, no one was injured.
---
UPDATE: DEC. 1 AT 5:06 P.M.:
Fergus County Disaster and Emergency Services (DES) gave an update on the West Wind Fire Wednesday evening.
According to the update, winds have quickly pushed the fire east across Highway 80 towards Denton, and suppression efforts are still underway but are improving.
As of 4:30 p.m. Wednesday, the fire has involved some structures.
Many agencies are providing mutual aid, including state, neighboring counties and communities according to Fergus County DES.
According to the update, extreme winds are making firefighting efforts difficult and there has been no containment on the fire at this time.
Power lines are believed to have started the fire, however information is still being gathered.
---
UPDATE: DEC. 1 AT 4:27 pm:
An evacuation shelter is being opened for those displaced by the West Wind Fire near Denton.
The evacuation shelter is being opened by the Montana Red Cross at the Lewistown Civic Center, 309 5th Ave. S.
Families can request Red Cross services by calling 800-272-6668.
---
UPDATE: DEC. 1 AT 2:54 pm:
MT-81 is currently closed from mile marker 11 to mile marker 13 due to smoke reducing visibility.
According to the Wildland Fire Incidents map, the West Wind Fire is human-caused and is 2,500 acres large as of Wednesday morning.
---
UPDATE: DEC. 1 AT 2:39 pm:
The Fergus County Sheriff's Office is asking people to stay out of the Denton area.
Highways around the area are closed, and an evacuation has taken place according to the sheriff's office.
---
UPDATE: DEC. 1 AT 2. P.M.
Denton Public School is evacuating the school as recommended by the county department of emergency services due to the nearby fire.
DPS said on Facebook parents have picked up their students, or students are with the school in a bus east of town on Hoosac Road waiting for pick up. 
---
DENTON, Mont. - Crews are battling a fire near Denton along Highway 80 Wednesday.
The West Wind Fire was reported north of Stanford Tuesday around 11:14 p.m.
Fergus County Department of Emergency Services said on Facebook powerful winds forced the fire across Highway 80 towards Denton.
At this time, the fire is not threatening the Denton community and there are no evacuations.
Crews are working on suppression efforts, which are getting better. 
Fergus County DES said power lines are thought to have ignited the fire; however, the fire is still under investigation.