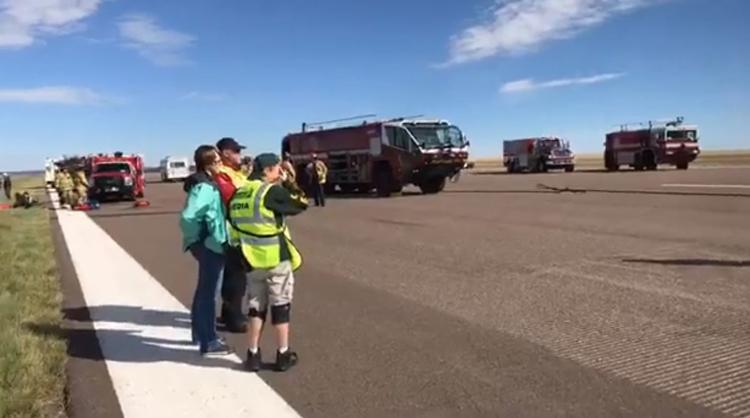 GREAT FALLS- A staged plane crash at Great Falls International Airport had dozens of people learning how to work together in order to save lives.
Several different agencies responded to a simulated plane crash for training. Great Falls Fire Rescue, airport security, Great Falls Emergency Services, and many more were all present in an effort to make sure you're safe in case something like this ever happens.
"From an airport standpoint, we need to be prepared for anything that can happen. All the way from something as small as a flat tire, to something as big as this full-scale exercise that we're doing today," Said Airport Foreman, Ryan Heintzelman.
But today isn't just geared toward keeping people in Great Falls safe. 
"It's the traveling community as a whole. I think everybody likes to have a sense of safety and this is... at this airport that is the number one priority." Heintzelman said, "Having a safe environment for our passengers to take off and land here and knowing that we are prepared if there is a disaster like today's."
The training included everything from fake people being treated for fake injuries, to firefighters putting out flames.
But Heintzelman says their biggest struggle had nothing to do with either one of those, "I'd say the hardest part would be just the communication aspect. I think you know, there's a lot of different radio channels and such that people talk on and just trying to coordinate that with everybody."
Which is exactly why training for things like this is so important.
"To be able to go out and plan it and run into the things you didn't know you needed to know and that type of thing so you're ready for an incident if it does happen."
Heintzelman also said when it comes to emergencies like this one, if this were a real-world incident, the best thing the community can do is let the emergency responders do their job.
"People tend to flock to the incidents and in order to the emergency first responders to do their job, they really need their room and their space to do it."
Thankfully, the Great Falls international airport has never had to deal with something like this in real life, but now, they're ready for one.