GREAT FALLS - After months of planning and preparations, a teenager in the Electric City is getting ready to launch his own business downtown, with a focus on virtual reality.
14-year-old Chase Morgan had always imagined of running his own store, and after getting a taste of VR at an arcade in Coeur D'Alene, Idaho, he knew he had to make his dreams into a reality.
"I was just blown away at VR," said Chase. "I was like Great Falls really needs something like this, and so I thought why not we just build it here?"
But before Chase Your Dreams VR got a green light from the City, Chase first needed to pitch the idea to his parents.
"What does it look like financially, what does it look like with your time schedule, what does it look like being a kid?" said his mother, Martha Morgan. "You're not going to have a lot of downtime being with your friends."
After proving Chase could juggle his responsibilities, his parents gave their blessings and their help as he tapped into his college funds and learned the basics of business.
"They helped me through the steps of everything," said the business owner. "They helped me understand everything."
Together, they found a cosy spot downtown with enough space, and did plenty of research to get the systems they needed.
"The VR headsets we had to search, we had to research, get the best on the market so that everything would feel as real as possible, and so that they get the highest quality of experience they can have," said Chase.
During a visit to the venue, I plopped on a helmet and tried my hand at VR driving. It took some getting used to, since I felt slightly disoriented at first, and even then my driving skills in real life unfortunately did not translate to the virtual world.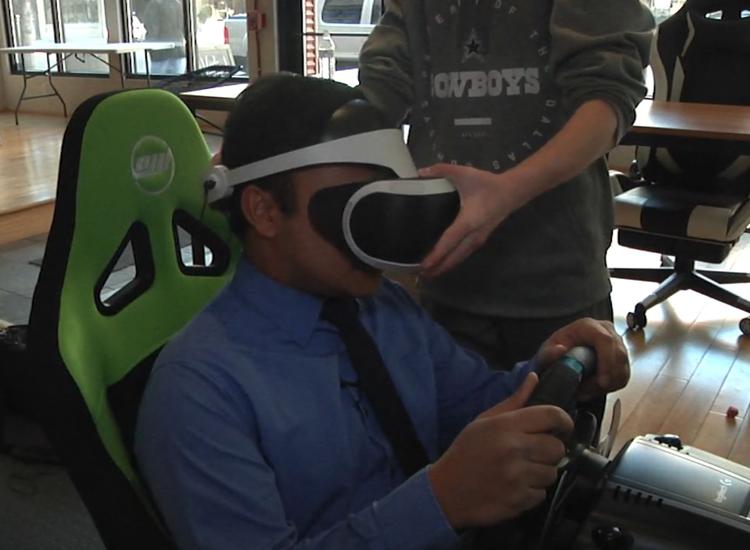 With all that said, simulating driving is only one of several experiences they'll have ready in the weeks to come.
"We have driving simulators, we have golf simulators, you know. So it's like anything you can think of that you would want to do, the possibilities are just endless," said Martha.
At the end of the day, Chase has one hope in mind as the arcade's launch comes closer, "I want people to be up and having fun doing whatever they dream they can do."
The venue will open to the public on Feb. 2, before a grand opening on Feb. 8. If you would like to learn more about Chase Your Dreams VR, you can visit the store's official website or Facebook page.