The cowboy way of life isn't as common in Montana as it used to be almost a century ago. As times change though, one artist continues to cement that lifestyle and legacy through his hand-crafted sculptures, which are always featured at Great Falls' Western Art Week every year.   
From ranchers and their horses, to Native Americans and even buffalo, 84-year-old Artist Jay Contway has molded hundreds of bronze figures since the late 1960s.
As a former rodeo cowboy himself who grew up in a Malta homestead, it's a way for him to show appreciation for his heritage and those who came before him.
"He does a lot for the American cowboy, the rodeo cowboy and the working cowboy, but he has also done a lot of work that portrays the Native Americans, the men and women. Pieces that show parts of that native life," said Lynn Contay, Jay's wife.
After working in a few foundries, Jay decided to start his own in the early 70s west of the Electric City. At the time, all he had starting out was a slab, a vacuum cleaner and the few tools he'd found.
"He poured into this first furnace that he had to have, he poured raw gas into that. Why he didn't blow himself and the whole country up is beyond any of us," Lynn said, holding back a smile.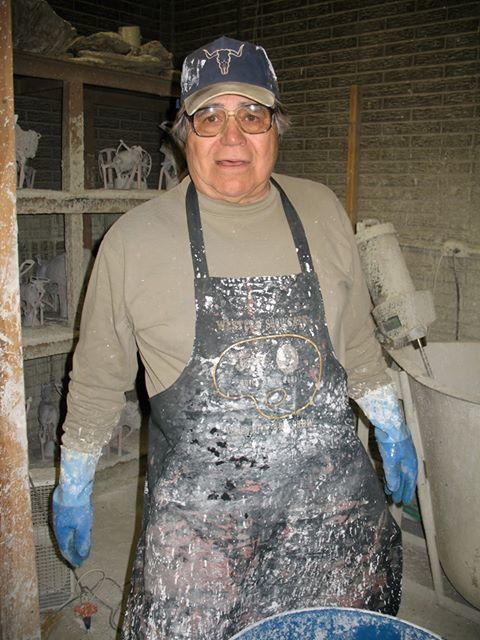 With time, money and some trial and error, Jay's skills, art career and foundry grew over the years. The original work site has since closed, but he has two others in Belgrade and Bozeman. To this day, they help him keep creative control while maintaining his standard for quality.
"That was satisfying to him because that truly was his work," Lynn said. 
The sculpting process can take anywhere between three to four months, depending on the project. For Jay, it's all in the poses and fine details when it comes to his bronze sculptures.
"He wanted the action to be the right action, he wanted the size of the man to the horse, or the female elk to the male elk. He wanted the accuracy to be right," explained Lynn.
For many, Jay's attention to authenticity is exactly what ropes them in to his figures.
"He has great detail. It looks authentic and factual, and i just love it!," said Grant Cooke, a guest at the C.M. Russel Museum's Saddle of Honor Ceremony who traveled from south of Calgary to make it to the event.
"You know, the headgear on the horse will always be right… and they look like the animals they are," said Bill Galt, president for the Montana Cowboy Hall of Fame.   
"I think it just exposes more generations to you know what the history is and was of Montana," said Kimberlyrenee Gamboa, Jay's cousin and a Saddle of Honor guest who traveled from Sacramento, CA to attend. "And he has captured it in ways that no one else has."
Jay has won several awards over the years, but on Friday he was the second person ever to receive the Saddle of Honor. The first was Charlie Russell himself.
"I was blessed to receive the second one from my work with the western way of life, and the cowboy way of life," Jay said. "It was very important to me and very important to my career to receive it."
You can see some of Jay's work at the C.M. Russell Museum in Great Falls, or see them online on his official website.