GREAT FALLS - According to state health officials, reports of the flu are once again on the rise across Montana, including in Cascade County. Now, a school nurse in the Electric City wants parents to know about a significant increase of cases related to the disease at Loy Elementary.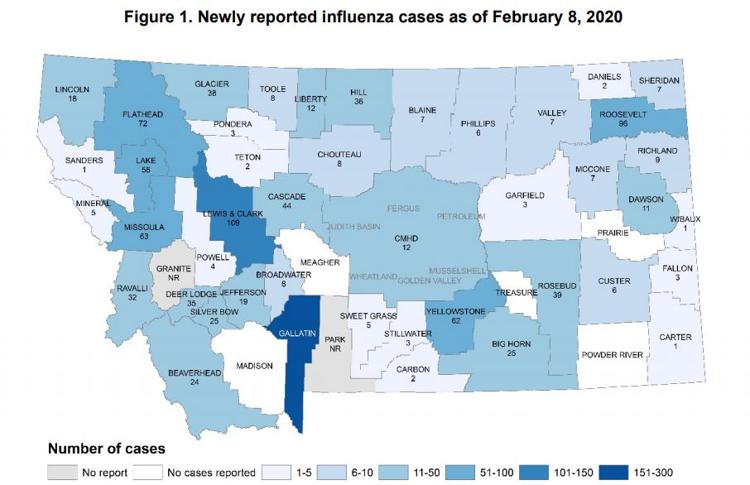 In some of the worst cases, the flu has left students with stomach aches, headaches, and high fevers of over 100 degrees, according to teachers. Now, they're reaching out to the public to try and stop the virus from spreading.
So far, there's been 44 cases of the flu throughout the county's 2019-2020 season, according to the Montana Department of Health and Human Services. The disease has affected local communities and classrooms as a result.
For School Nurse Courtney George, this isn't her first rodeo dealing with the flu on campus, especially during this time of year.
"It's pretty normal for the amount that we have seen," said Courtney.  
To contain the spread, school staff often deep clean areas where hand-to-hand contact is likely, including desks, sinks and water fountains.
Since the virus can last anywhere from two days to a week, in early February the school started urging parents in an email to keep their children home for five days if they start showing symptoms, like high fevers or headaches.
"We do try to stress the importance of [parents] keeping them home for that time," said the nurse.
But even so, sometimes Courtney finds students who return just a little too early. As a parent herself, she said she can understand why.
"Five days away from your own job is a hardship," said Courtney, "and they may not have the resources to watch their children."
While you may feel tempted to send your kids back to school with medication to fight flu like symptoms, Courtney said it's one of the worst things you can do because of how contagious the virus is.
"If they have to medicate their child to minimize their symptoms, before sending them to school, then they really probably aren't well enough to be in a school setting," she said.  
If your kids need to stay at home because of influenza, the school nurse recommends they should get plenty of water and rest.
To lower your chances of getting sick to begin with, you can't go wrong with basic hygiene, like washing your hands regularly. 
"Cover your cough, please do not sneeze into your hands as you are touching other objects," said Courtney. She also recommends getting a flu shot from your local health provider, like Alluvion or the Cascade City-County Health Department.