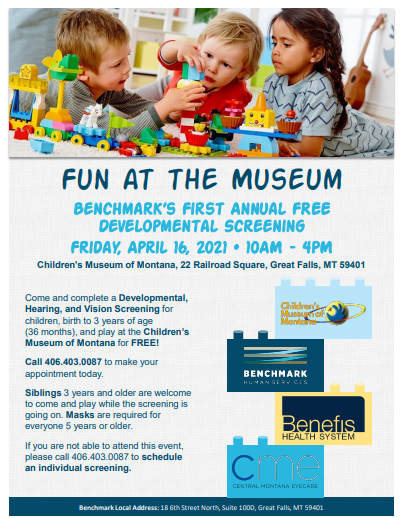 GREAT FALLS, Mont. - A Great Falls woman says "Help Me Taylor." COVID has meant developmental screenings for children have been canceled across the state, and now one year after the pandemic began, organizers are starting to see the impacts and asking for parents to step up.
She says referrals for kids who might need some help hitting their developmental milestones are down 20 percent. But now things are looking up with a new event coming next month that could make all the difference, as long as we all participate.
It's called "Fun at the Museum" and is a screening event at the Children's Museum in Great Falls, organized by Benchmark.
Kari Hoover is the Program Director. She says traditionally, most referrals for young children come from doctors or schools… but since COVID canceled so many events and appointments, some kids may have fallen through the cracks this past year to get the help they need.
Hoover says we now have an opportunity to step up and get that help at this event, which we can then take home to our children.
"We've found that the parents are the best teachers for these children. And if we can educate and support those parents in the home, that child's going to evolve at a much greater rate than by anybody else."
"Fun at the Museum" will be on April 16th starting at 10am and is completely free. There will be developmental, hearing, and vision screenings. Please call 406-403-0087 to reserve a time.
And if you're uncomfortable heading out in public with your kids right now, there are virtual options available. You can call 406-403-0087 to call and schedule a virtual appointment.