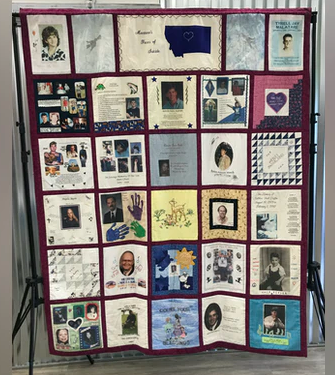 It's a story we first brought to you two years ago; the "Montana Faces of Suicide" quilt was stolen in Missoula. The families of those represented on the quilt were devastated by the loss…. and even now still searching for answers, saying "Help Me Taylor."
Linda Flemming, who contributed in memory of her son Travis, remembers the process fondly.
"I chose photographs from different parts of his life. When he was a baby, when he was building model airplanes, graduating from the air force academy…." says Flemming.  
Then, on March 9th of 2019… something horrible happened. The quilt was stolen from the trunk of a car. It was in a pillow case, and organizers tell me they believe whoever broke in didn't even know what they were taking. A $100 reward was offered for its return, but nothing ever came of it, and police weren't able to help either. The quilt was never found.
"I was just devastated because I was just so proud of that quilt."
Fast forward to today, Flemming reached out to me curious about whatever happened to the quilt carrying the images of her late son.
"I thought maybe you'd like to see if there were any leads on it you know."
After a phone call to the American Foundation for Suicide Prevention, which organized the quilt making, we received some exciting news. While the quilt was never recovered, they are in the midst of plans to make a new one within the next year.
"I think that's just wonderful, I think most of us would be very happy to be able to have that opportunity again."
Right now, AFSP is looking for as many participants as possible, particularly those who contributed to the original quilt that was stolen. For more information or with questions, contact Katie Levine at 406-531-4728 or email her at klevine@afsp.org