November 20th marks one year since 5-year-old Tony Renova was found dead in Great Falls after his biological parents allegedly beat him to death.
His parents are now behind bars as their case moves through the court system, but will the outcome feel like justice? I spoke to Christy Foster, Tony's foster mother, earlier this year.
 "He was a sweetheart, he always made you laugh, that was his favorite thing to do is make you laugh," says Foster.
Christy and her husband took Tony in as his foster parents when he was just three days old. He lived a normal, happy life for a little boy… until one day the Fosters' worst nightmare came true and he was taken away.
"It was hard, you get attached to them and love them like your own and then you have to send them back. Most of the time they get sent to a good situation, sometimes they don't."
Tony was returned to his biological parents. Less than a year later, on November 20th of 2019, Great Falls police found Tony's lifeless body in their apartment… beaten and bloody.
The brutal crime sparked outrage across the country… and so many of us asked: why in the world was this little boy taken from a loving family, who wanted to adopt him, and placed into the care of the same people who were forced to give him up in the first place?
Dana Toole with the Department of Justice tried to answer that question for me.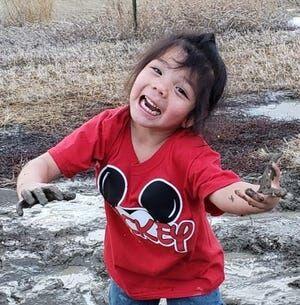 "There were some challenges that were highlighted by that fatality. And really the primary one is… a lack of consistent communication between tribal social services office and our tribal courts, and our state services."
That communication between the tribe and the state is not something that can be ignored, in part because of ICWA.
ICWA stands for the Indian Child Welfare Act. Established in 1978, the law was made in an attempt to reunite Native American children who were disproportionately being separated from their parents.
In general, people I've talked to about ICWA say when it works, it's great and necessary. But when it doesn't work… they say cases like Tony's fall through the cracks. 
"That communication between those two systems is not always functioning. And it does put kids at risk," says Toole.
So I asked: why is the communication failing? Dana says to put it simply: CPS workers are overworked and underpaid.
The Child Welfare League of America recommends caseloads of between 12 and 15 children per worker. But according to Jon Ebelt at the Department of Public Health, Montana caseloads are as high as 40 children.
On top of that, Ebelt says their turnover rate is as high as 40 percent… which matches what is happening across the country. 
Toole says, "I understand the community frustration and outrage when we lose a child. It is tragic every time. And of course we want to know why and we want to understand. And we also sometimes really need someone to blame… there's not always an answer and there's not always someone specific to blame."
Of course, Tony's isn't the only case. In 2019 the Montana Department of Justice reviewed 17 child fatalities… of those fatalities, thirteen involved the use of drugs or alcohol, seven included instances of domestic violence, and at least six of the children killed presented "multiple indicators" that something was wrong.
 "You need a team approach, so you need law enforcement, county attorney, medical, mental health, CPS all working together keeping children safe… when every agency in town is pointing fingers at every other agency in what they did wrong, that is not about children. That is not," says Toole.  
It's a change that for families across Montana and the country cannot come soon enough. In some cases, it's too late.
 Christy Foster says, "We're all human, we all make mistakes. There are going to be instances where kids are removed from homes that they shouldn't be removed from… We've been grieving him. Other than the law, he was basically our kid."
I shared my findings with Representative Dennis Lenz of Billings. He says he plans to propose legislation to fill the cracks in the system.
The Department of Justice is set to release its annual report on child fatalities in January of 2012. In the meantime, DPHHS is suing the DOJ for attempting to post its findings online for the public to see. You can read more about the case here.
If you have a problem you need a solution to, don't hesitate to reach out. Click on the "Help Me Taylor" tab and fill out a submission form.