HAMILTON - Two suspects were arrested this week on suspicion of dealing nearly $100,000 worth of methamphetamine this year in Ravalli County.
Court documents say that on Oct. 10, authorities were conducting an eviction of residents at a property on Treece Gulch Road in Stevensville.
Sheriff's deputies say they observed a glass pipe used for smoking meth in the property while clearing the residence, and obtained a search warrant. 
Court documents say investigators searched the property and found 1.4 ounces of methamphetamine (worth about $5,000) along with drug paraphernalia, an AR-15 rifle, two Ruger pistols, and a Frenchtown Fire Department radio.
Officers arrested Michelle Mae Voth, 28, on multiple felony counts related to drug possession, distribution and child endangerment.
Samuel Ingols Brown, 31, faces a new charge of criminal possession with intent to distribute, along with charges of criminal drug possession stemming from a prior arrest last month.
Voth and Brown submitted urine samples for drug testing and came up positive for meth and other drugs, documents say.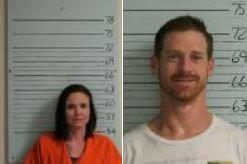 In an interview with detectives on Oct. 11, Voth admitted to selling about $95,000 worth of meth this year, most recently 1/2 a gram to a family member. She also admitted to keeping dangerous drugs in the same house as her 5-year-old child, documents say.
Voth is jailed on a $75,000 bond.