UPDATE: According to the medical examiner at the State Crime Lab, Brendan Rollins died of hypothermia from exposure to the cold.
---
It's been a grueling 48 hours in the Sluice Boxes State Park. Late Yesterday Brendan Rollins' body was found after he was separated from his friend Logan, on a camping trip Friday night. 
They made it about 4 miles in before they decided to head back to their car due to bad weather. 
Logan told Sheriff's, he slipped and fell down a ravine and ended up spending the night in his sleeping bag at the bottom of that ravine. 
It wasn't until he woke up that Logan realized Brendan was no where to be found. On his way out, Logan ran into some hunters and told them what happened. 
While Brendan's body was found yesterday, Cascade County Sheriff Jesse Slaughter said finding him so late in the day forced them to wait until Monday morning to start recovery efforts. Even then, mother nature was a big concern.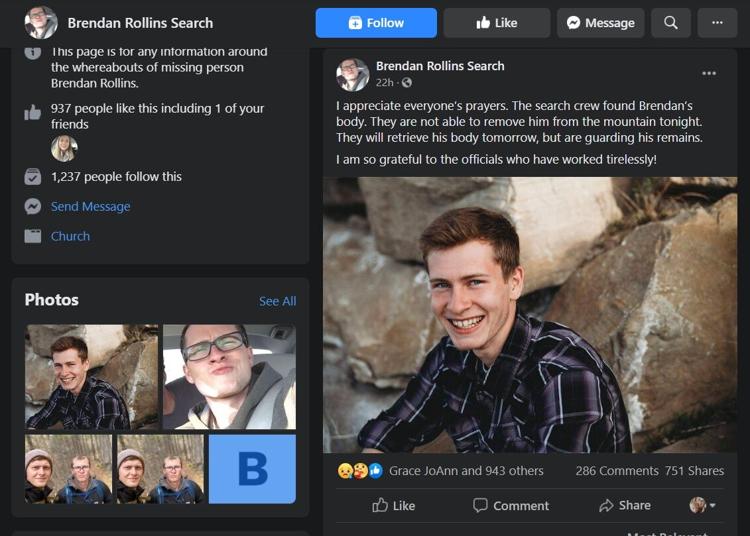 "Winds right now could become a major issue in a rescue like this… Anything with search and rescue, especially technical high angle search and rescue involving helicopters is subject to change moment to moment," said Slaughter.  
Around 2:30 P.M., we got a press release saying crews were successful in getting Brendan's body out of the ravine where he was found. 
Slaughter says it could be a couple of days or even weeks before they find out how Brendan died. 
---
GREAT FALLS, Mont. - Cascade County Search and Rescue along with Montana Fish Wildlife and Parks found Brendan Rollins, 20, deceased in the bottom of a ravine inside Sluice Boxes State Park Sunday. 
Rollins was reported missing by his friend Logan Haakenson on Saturday. 
According to Haakenson, he and Rollins went to Sluice Boxes State Park Friday evening. 
The two separated and Haakenson, who had a sleeping bag, spent the night in the ravine. In the morning he hiked out and was found by a hunter, according to a release from law enforcement. 
Sunday, search crews found Rollins' body in an area only accessible by foot. His remains and the scene were guarded overnight.
Monday, search crews will attempt to bring Haakenson by helicopter with the assistance of MAFB.
A cause and manner of death have yet to be released. 
Law enforcement are asking the public to stay out of the area Monday, as they anticipate a dangerous recovery.