Winter Weather Advisories are issued for higher elevations in many parts of Montana until Friday, June 21.
If you're headed out camping or hiking in the back country, prepare for cold weather.
Big Sky Ski Resort, which has already seen snow on its main lodge this June, is among the areas expecting more snow tonight.
The National Weather Service says elevations above 5,500 feet in the Rocky Mountain Front can expect accumulating snow until the afternoon of Friday, June 21, although not all cities will see snow. The Bitterroot Mountains and Clearwater can expect to see some snow at 6,000 feet and accumulation above 8,000 feet.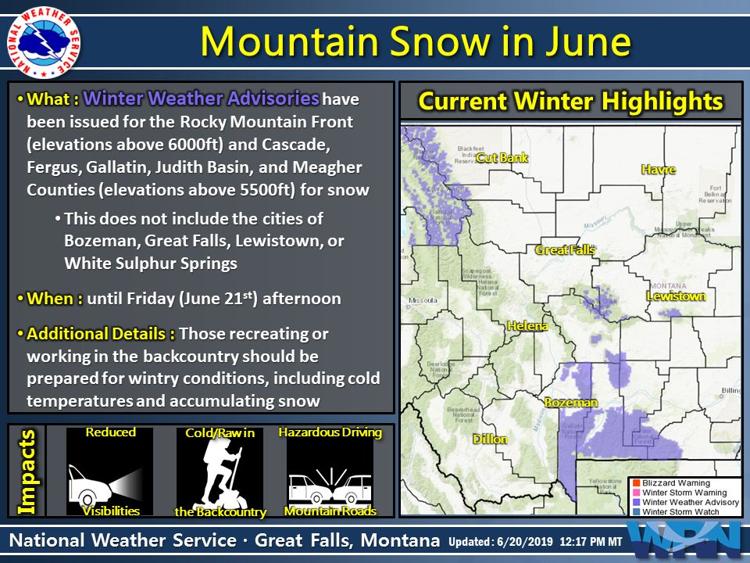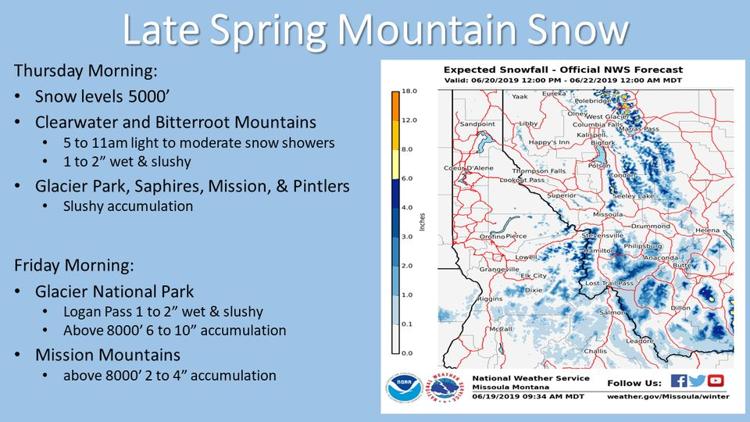 From the National Weather Service:
Winter Weather Advisories have been issued for the Rocky Mountain Front (elevations above 6000ft) and Cascade, Fergus, Gallatin, Judith Basin, and Meagher Counties (elevations above 5500ft) for accumulating snow until Friday (June 21st) afternoon. This does not include the cities of Bozeman, Great Falls, Lewistown, or White Sulphur Springs. Those recreating or working in the backcountry should be prepared for wintry conditions, including cold temperatures and accumulating snow.
A very cool Pacific system will affect Central Idaho and Western Montana through Saturday afternoon. Snow levels by 6am MDT Thursday, will have fallen to 5000' across the region. Thursday morning the Clearwater and Bitterroot Mountains will have the best chance of accumulation. By Friday the heavier precipitation will have migrated northeast towards Glacier National Park, Bob Marshalls, and the Mission Mountains. Additionally, the air mass will moderate some overnight Thursday and snow levels are expected to increase to 6000' with the accumulating snow above 8000' for Friday morning.
This was taken in the Bozeman area-