HELENA — Football weather, full pads and a scrimmage with live tackling.
Carroll's football team, three weeks out from its season-opener against Montana Western, held a "young guns" scrimmage Saturday morning inside Nelson Stadium.
The 1s and 2s – the players who would be on the two-deep if the season started today – were spectators to the third- and fourth-team offenses and defenses made up largely of freshmen and redshirt freshmen as they battled for roughly an hour.
"It was very simple on offense and defense scheme-wise," Saints head coach Troy Purcell said. "Just wanted to see fundamental football and just wanted them to play fast and see how these young guys reacted to live situations."
Just a handful of plays into the scrimmage, Cormac Benn, a redshirt freshman out of Bigfork High School, broke a long touchdown run.
Minutes later, true freshman Joaquin Porcayo replicated the feat.
Porcayo ran right – toward the near sideline – slipped a tackle, made a cut-back in traffic, and spirited 45 yards or so to the end zone.
"The defense was flowing pretty hard right, so I had a pretty wide open cut-back for a nice, easy touchdown…It's kinda all instinct. Coach [Jim] Hogan talked about that earlier. We do have a job [to do] here, but you don't wanna shy away from your instinct."
"That's what is most important as a running back. You can't really play like a robot and be successful. That's all really just natural, coming from playing the game for a long time since I was a kid."
Porcayo attended Yuba City High School in California and, at 6-foot, 205 pounds, he's a bruiser.
He showcased that Saturday, often refusing to go down on first contact, instead fighting for extra yardage.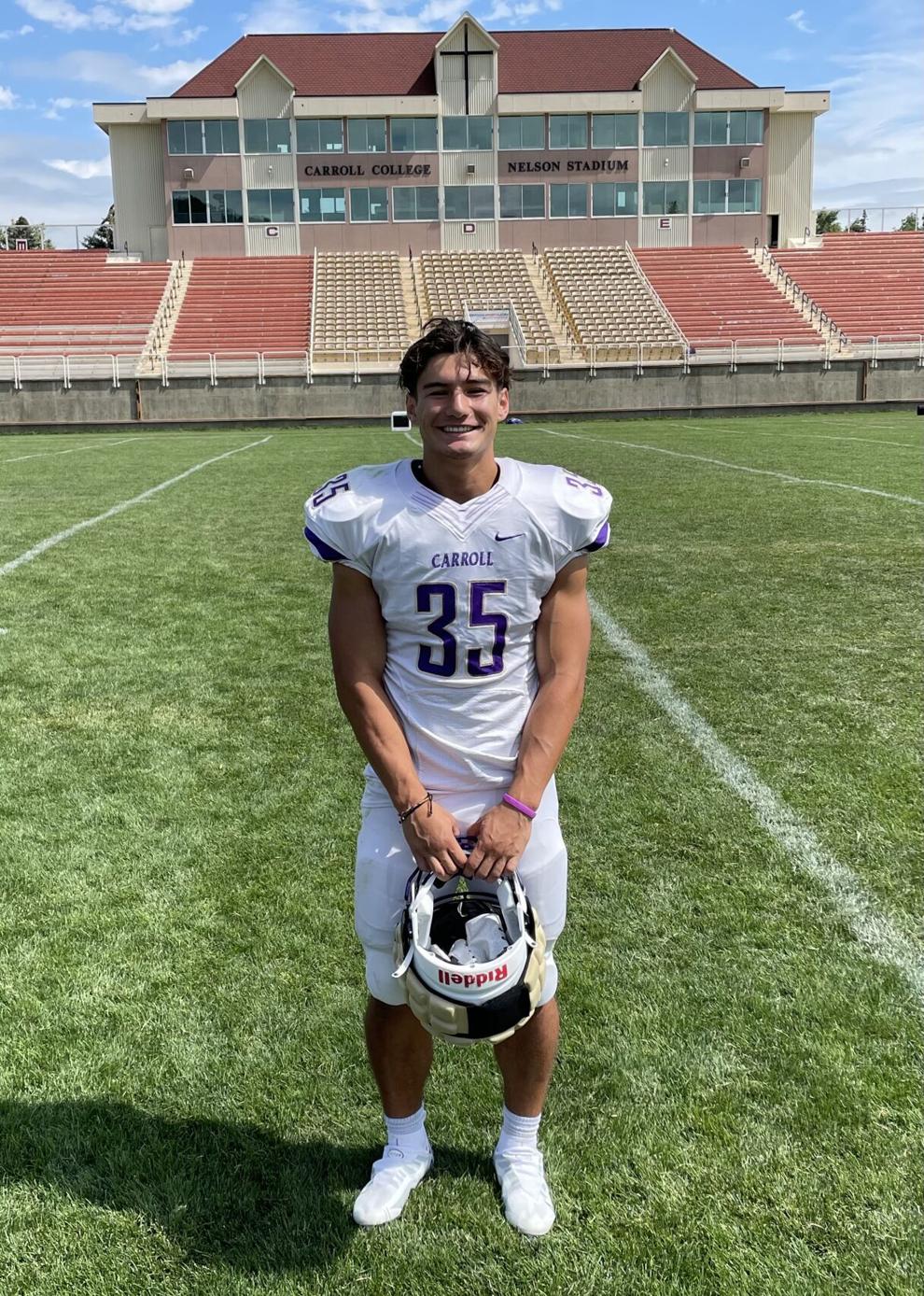 "He plays over his pads really well," Purcell said of his freshman running back. "He's making a cut, but he's always moving forward. He's got good vision down the field and he's a big back. He doesn't go down after the first hit…He showed a lot [today] – that was fun. He's a good player, that's why we recruited him."
"My first year out here, it's a lot of adjustments, but me and the rest of the young guys were working it pretty good," Porcayo said. "Especially the offensive line – I had some big holes out there. It feels great to be back out here."
Former Billings West quarterback Isaiah Claunch saw plenty of reps and made a couple nice throws, including a sidearm one for a moderate gain.
Devon Suko (Lakeland High School, Idaho), Slade Schuster (South Anchorage High School, Alaska) and Quinn Stamps (Chelan High School, Washington) also rotated at quarterback.
First- and second-team quarterbacks Jack Prka and Ryan Daggett participated in a skelly session prior to the scrimmage.
Defensively, linebacker Gunner Giulio made a big hit on a tight end that nearly caused a fumble.
Redshirt sophomore defensive end Hank Rugg came off the edge and stopped a run play for a minimal gain, and former Helena High standout Forrest Suero recorded a TFL on a carry toward the end of the scrimmage.
Freshman defensive back Jaxson Cleverly (Crimson Cliffs High School, Utah) pulled down an interception in the end zone on the final play of Saturday's scrimmage.
"Usually this early in fall camp, the defense, a lot of times, just completely dominates the offense," Purcell said. "I think, maybe, the offense is a little bit ahead right now. Defense will rally, that's how it goes – tomorrow the defense will come out and kick the offense's butt and then it will be back-and-forth and back-and-forth with that competition."
"Our depth right now is pretty good – the best it's ever been since I've been here."
Saturday's scrimmage wrapped up the first week of preseason practice for Carroll. Purcell said next week will be another week of install work and fine-tuning. After that, some Western-specific stuff will begin to be mixed into practice as the Saints prepare for the opener on Aug. 27.
"We're very fortunate, we don't have school starting until that Wednesday [before game No. 1]," Purcell said. "One early-morning practice that week, so we've got a lot of time with these guys to develop a good camaraderie and culture."
"Football, football, football – [the players] can really deep dive and we can deep dive as coaches and get them ahead of the game."