HELENA — Kent Paulson was emotional as he stood at a lectern inside Carroll College's PE Center to announce his retirement from his position as Frontier Conference Commissioner.
Just over two months shy of the 14th anniversary of his introductory press conference inside the same building, Paulson choked up when talking about family and how his leadership style centered on treating employees and colleagues with class, courtesy and respect.
Paulson, whose retirement becomes effective on June 30 at the completion of his current contract, is the longest-serving commissioner as the first full-time commissioner of the Frontier.
Paulson will continue to serve in his current role until a successor is named.
"I had no idea what I was getting into, but it's been a terrific 14 years," Paulson said. "I told some people that you know how much you love a job when you have a hard time deciding if you're going to leave it or not."
"I think that's the measure of how much I enjoyed my 14 years."
Upon his retirement, Paulson will maintain the title Frontier Conference Commissioner Emeritus.
At 72 years old, the idea of spending more time with his grandchildren is what pushed Paulson toward ending a 50-year career in education and athletics that's taken him around the state of Montana.
Under Paulson's guidance, which began in the summer of 2009, the Frontier added associate members Southern Oregon, College of Idaho and, most recently, Arizona Christian as football-only members, while Dickinson State's tenure in the league lasted just two years.
Men's and women's track and field was added by the Frontier in 2012-13, and beginning in the 2020-21 sports year, the conference re-established the men's and women's outdoor track and field championships.
Paulson also led the Frontier through the COVID-19 pandemic, and according to a league press release, facilitated an increase in corporate sponsorship and established Frontier Conference Scholarships and the Ron "Swede" Kenison Award.
"Kent is a class act," MSU-Northern Chancellor Greg Kegel said on Tuesday. "He's a guy with a ton of reverence – he's a guy that, when he walks into a room, people notice he's in the room. He's an example for everybody."
"As the leader I am, all I want is people to be committed, and there was never a doubt ever that Kent wasn't committed. He was committed to everything he did."
"The Frontier Conference was damn lucky to have you."
With numerous ties to the conference, Paulson was uniquely driven to see the Frontier succeed.
Himself a 1973 graduate of Western Montana College (now Montana Western), Paulson's oldest son, Kale, attended Montana Tech. Paulson's wife, Joan, spent two years attending Carroll College, while Paulson's youngest son, Kurt, just completed his fifth year as the Saints' head men's basketball coach after competing at Carroll as a student-athlete.
One of Paulson's favorite memories of the last 14 years was watching Kurt guide the Saints to an NAIA National Championship Game appearance in 2019.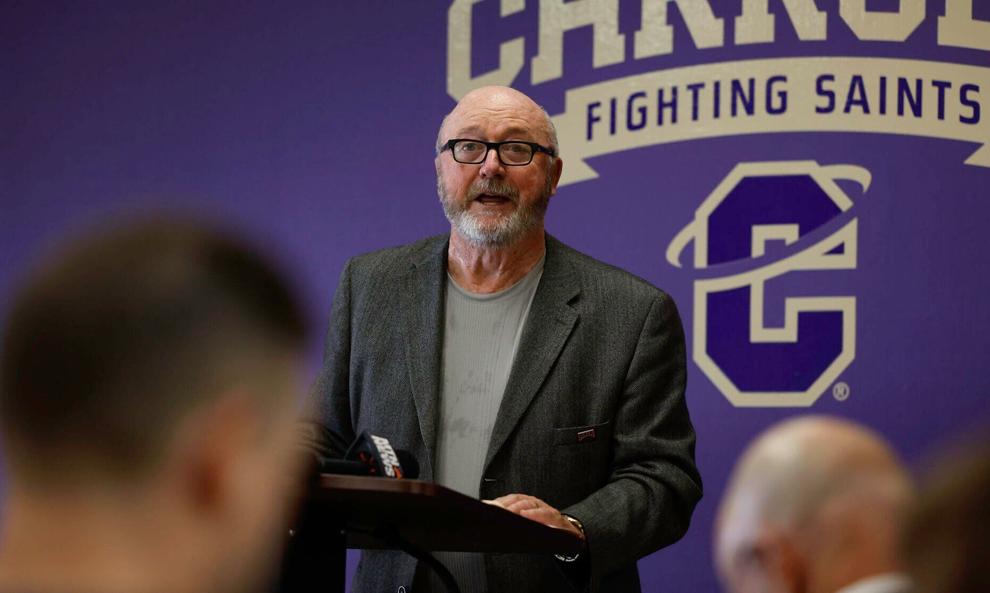 He vividly remembers sitting next to NAIA President and CEO Jim Carr during that year's semifinal game between two Frontier schools with his son on the sideline.
Paulson said Tuesday there was no way to describe what he was feeling in that moment, but that he was nervous, real nervous.
"I told the presidents in my interview back in 2009, 'you have to hire me because I've paid tuition at just about every school,'" Paulson said, smiling. "They quickly understood that I knew the landscape of the Frontier…We're family. We all roll up our sleeves and assess the situation and meet it head-on."
"All of us together constantly moving the conference forward, that's what drives a person…It's not hard to work for something that you love."
Before the Frontier, Paulson spent nine years as the assistant principal at Whitefish High School and five as the principal. He coached track and basketball at Troy and C.M. Russell High Schools and is a former MOA basketball official and track and field official.
During his career, Paulson received the Montana Coaches' Association Outstanding Contributor Award, the MCA Distinguished Service Award, and NAIA Award of Merit and NAIA Charles M. Morris Administrator of the Year Award.
"Your ability to emphasize the importance of friendship, of family, collaboration, and maintaining a perspective before we ever talked about competition – it took a lot of skill and patience to do that," Carroll Athletic Director Charlie Gross said, speaking to Paulson. "We will miss that."
Paulson believes the Frontier is well-positioned for the future.
ACU's addition means the conference is back to nine football-playing members. Adding to the list of six full-time members, though, will likely be the goal of the Frontier's next commissioner.
"At the top every agenda has been membership and that will continue…We are a good conference," Paulson said on Tuesday. "We are geographically challenged, and we understand that, but we happen to like where we live and get to work…
"We're gonna get back to – you'd like to have at least eight [full-time] members for scheduling…There's people knocking on our door, and that's a good sign. I think we're really in a good position and I think you're gonna see some really good things happening in the years to come."
A search for Paulson's replacement will begin immediately. Carroll College President John Cech and Montana Tech Chancellor Les Cook will co-chair the search committee made up of chancellors, presidents and athletic directors.
The position is full-time, and according to the Frontier's press release, the physical location of the commissioner is flexible, but they must reside in Montana.