HELENA — A second half onslaught, from both sides of the ball, was too much for the No. 24-ranked Carroll Saints in a 31-20 loss to No. 11 College of Idaho.
C of I entered Saturday's pivotal matchup outsourcing opponents 90-19 in the second half. While the Saints were able to score against the Yotes in the fourth quarter – becoming the first team to do so this season – 24 points and nine second-half sacks lifted the Yotes to a 5-0 record.
Saturday's win ended a three-game losing streak against Carroll and was the Yotes' 25th win in their last 29 Frontier Conference games.
"Just love the resiliency," C of I head coach Mike Moroski said. "We've been a second half team all year. Obviously the spark plug was the big pass to Brock Richardson. Sometimes, in games like this, it's the first play of the drive when you have the driest ball."
"I thought the defensive onslaught was really good. I thought we got free for some key sacks and kept them from getting on track until that one drive late."
Richardson's third-quarter touchdown – a 68-yard catch-and-run from the right arm of Ryan Hibbs – off-set a Carroll touchdown 11 seconds prior.
Carroll punted on its next two drives as quarterback Jack Prka was sacked twice and the Saints' run game struggled to find its footing on the slippery grass.
As Carroll was continuously pushed deeper into its own territory, C of I gained better and better field position.
Eventually Allamar Alexander popped a 22-yard touchdown run to put the Yotes up eight.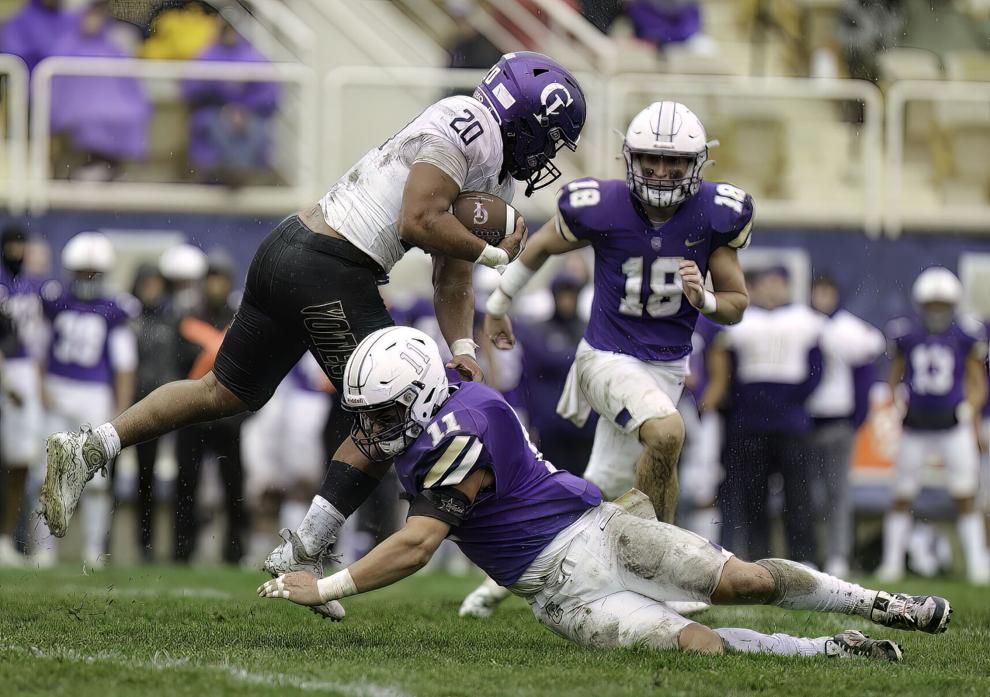 Alexander finished the game with 129 yards on the ground, while Hunter Gilbert added another 63.
The Yotes took advantage of a fumble to go up two scores as the fourth quarter began – and after creating three straight negative plays and a punt by Carroll's offense – punched in another touchdown to take firm control.
"We were outplayed, we were outcoached," Saints head coach Troy Purcell said. "We just gotta get better."
"We've gotta fix a lot. Offensively, we've just gotta be able to put a few more drives together. I like our tempo stuff we did at the end there…It was a physical game, a tough game. It just wasn't our day. Hats off to College of Idaho. We got them the last three and they got us this time."
C of I defensive end Keagan McCoy was credited with four sacks and a forced fumble. He paced the team with nine tackles and anchored a defense that limited Carroll to negative-15 rushing yards.
It was Jon Schofield's two-yard touchdown run out of a wildcat formation that broke the scoring seal Saturday. The junior-college transfer in his first season at C of I added another score, out of a similar formation, in the fourth.
"He's obviously comfortable doing that," Moroski said. "He's maybe the toughest guy on the team. He's a great blocker, he's fast. The second touchdown was just amazing. I just felt so good about putting it in and getting the ball in his hands where you don't have to hand it off."
Carroll responded to Schofield's opening score with a 30-yard touchdown to Tony Collins.
Chris Akulschin gave the Saints their first lead of the game in the third quarter when he hauled in his first career touchdown – a 15-yarder.
"It felt good," Akulschin said. "I would say it feels great if we won the game. It felt good to get in the end zone, just seeing [things] kinda piece together."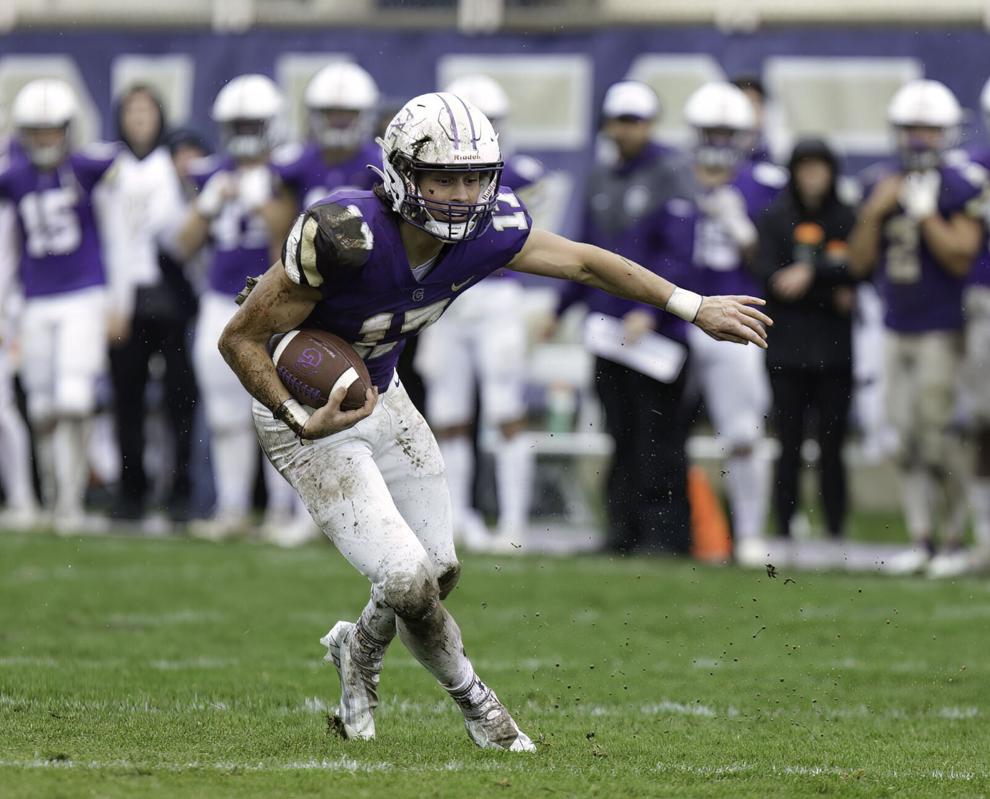 Down three scores in the fourth, Carroll marched 72 yards on eight plays, five of which were Akulschin receptions.
It culminated in a 12-yard dime from Prka to Akulschin in the back corner of the end zone for six.
Playing in just his fifth-ever collegiate game, Akulschin set career bests for receptions (7), yards (77) and touchdowns (2), all while his parents, grandparents, aunt and uncle, cousin and little brother watched.
"My mom and her whole side of the family went to C of I…[They were] kinda rooting for them and rooting for me, too. It feels good to have a good game against them and be there with [my family] and celebrate it with them."
"We knew [that kind of game] was in there. Just a matter of time to let it rip and let it go," Purcell said of his redshirt freshman wide-out. "He had a great game. That helps everybody at receiver because now there's more than one threat out there besides Tony [Collins]."
Carroll turned in, statistically, its best passing effort of the season Saturday in the worst conditions the Saints have faced thus far.
A steady rain turned the field at Nelson Stadium into a muddy, slippery mess and made the football difficult to control. Nevertheless, Prka finished the day 16-for-28 through the air for 218 yards and three touchdowns. He also threw an interception and lost two fumbles.
Collins totaled 80 yards and a touchdown, while Matthew Burgess carried the ball nine times for 23 yards.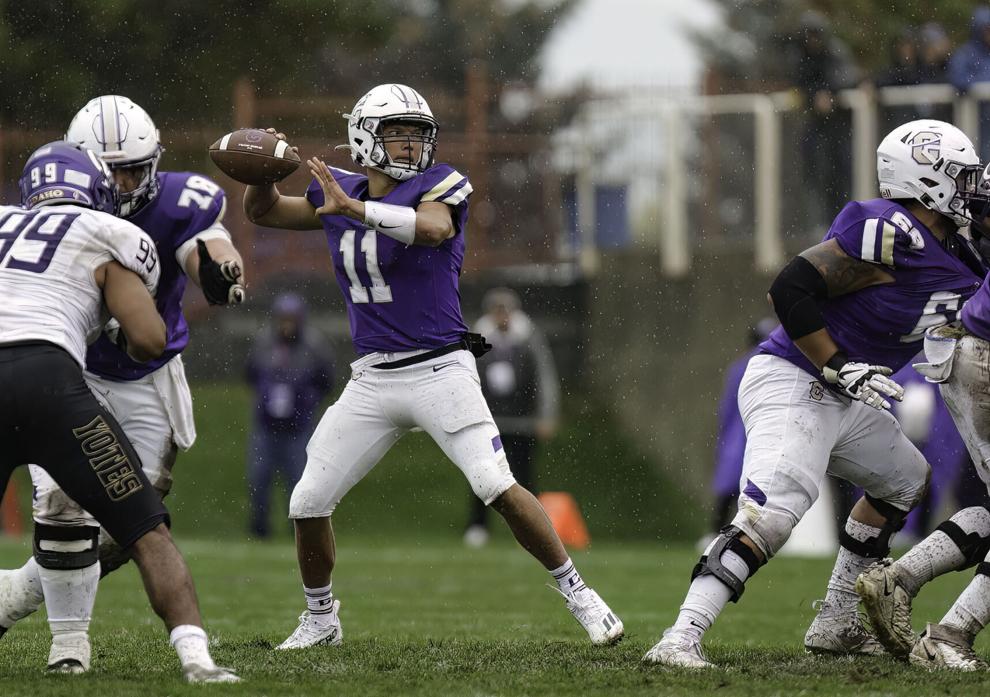 The Yotes were without starting quarterback Andy Peters (illness) and received just enough through the air from Ryan Hibbs to complement a rushing attack that gained 197 yards and averaged 3.9 yards per carry.
"We talked as a staff and just thought, 'Carroll is a good football team, but we're a good football team, too,'" Moroski said. "We're not gonna be able to beat them every time, but we were determined to today…
"We knew we needed to play better than them to win today, and I think we did."
Carroll drops to 3-2 on the season and falls behind 4-1 Rocky Mountain College and Montana Tech in the Frontier football standings. Five games remain in the regular season.
"Evaluate, check yourself in the mirror and see where you're at – see what we need to change and continue to improve," Purcell said.