HELENA — Nearly a year ago, Brayden Koch, playing for Helena Capital, and Trent Rogers, playing for Bozeman, shared the court as opponents in the Montana Class AA State Championship Game.
Saturday night they shared the court again, this time as teammates, as the final buzzer sounded on Carroll's 84-77 win over No. 12-ranked Montana Tech.
The Saints' biggest win of the season to date, one that evens Carroll's Frontier Conference record at 4-4 and vaults the Saints back above .500, was ignited by Koch's career-high 22 points and Rogers' quick 10 off the bench in the first half.
"That felt so good – just coming off a few losses, especially at home," Koch said. "We had a good crowd tonight. I think that gave us a lot of energy – just knowing that we had to step and play our hardest."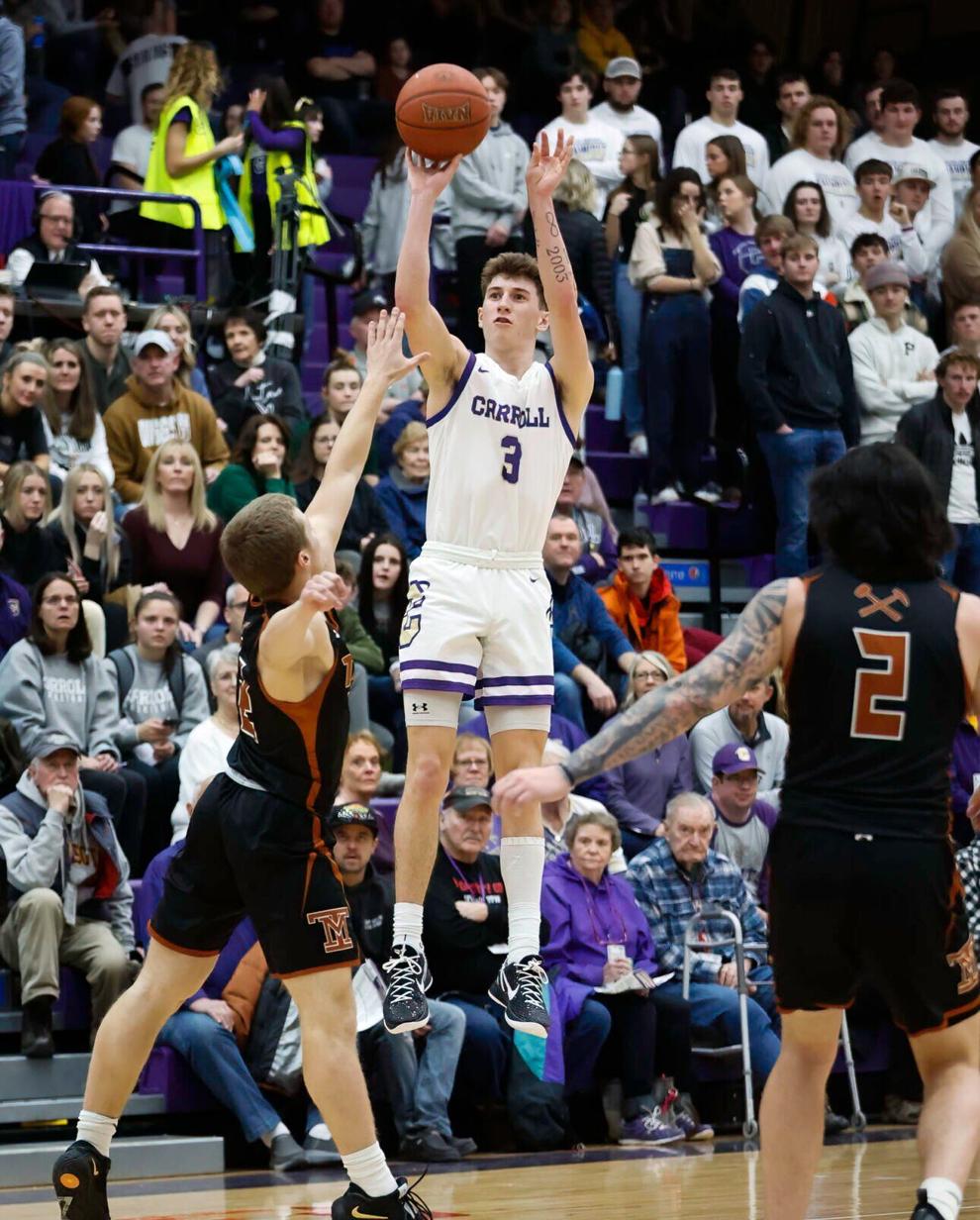 "I don't know if it can top crosstown, but it was up there."
Koch connected on four of his eight 3-point attempts in the victory and even converted a 4-point play in the second half.
His triple with three and a half minutes remaining put Carroll up by four and proved his knee, which he appeared to injure moments before, was fine.
"He's just so calm out there. He keeps us steady," Saints head coach Kurt Paulson said. "Trent Rogers is another freshman who stepped up this weekend. He's learning, and he made some big shots in the first half."
Rogers started 4-for-4 from the field, burying two 3-pointers, on his way to 10 first-half points in seven minutes.
Having played 20 or more minutes in just one game for Carroll entering this week, Rogers took advantage of Koch's absence on Thursday and ended up averaging 23 on-court minutes in Carroll's wins over Montana Western and Tech.
He scored a combined 18 points on 7-for-12 shooting in those games.
"Next man up, Trent gets a little burn and takes advantage," Paulson said. "That confidence kinda carries into tonight from me. He showed that he's confident by taking those shots."
Rogers didn't score in the second half, but played 15 minutes, grabbing two rebounds and dishing out two assists while playing quality defense.
"I was just locked in all day," Rogers said. "It just happened – my work showed."
"It was pretty surreal. I never imagined myself being in college playing basketball and now I'm doing this as a freshman – it's awesome. I'm glad coach gave me the chance to play in this [game]."
Tech's Caleb Bellach, the Frontier's leading scorer entering play, nearly willed his team to victory.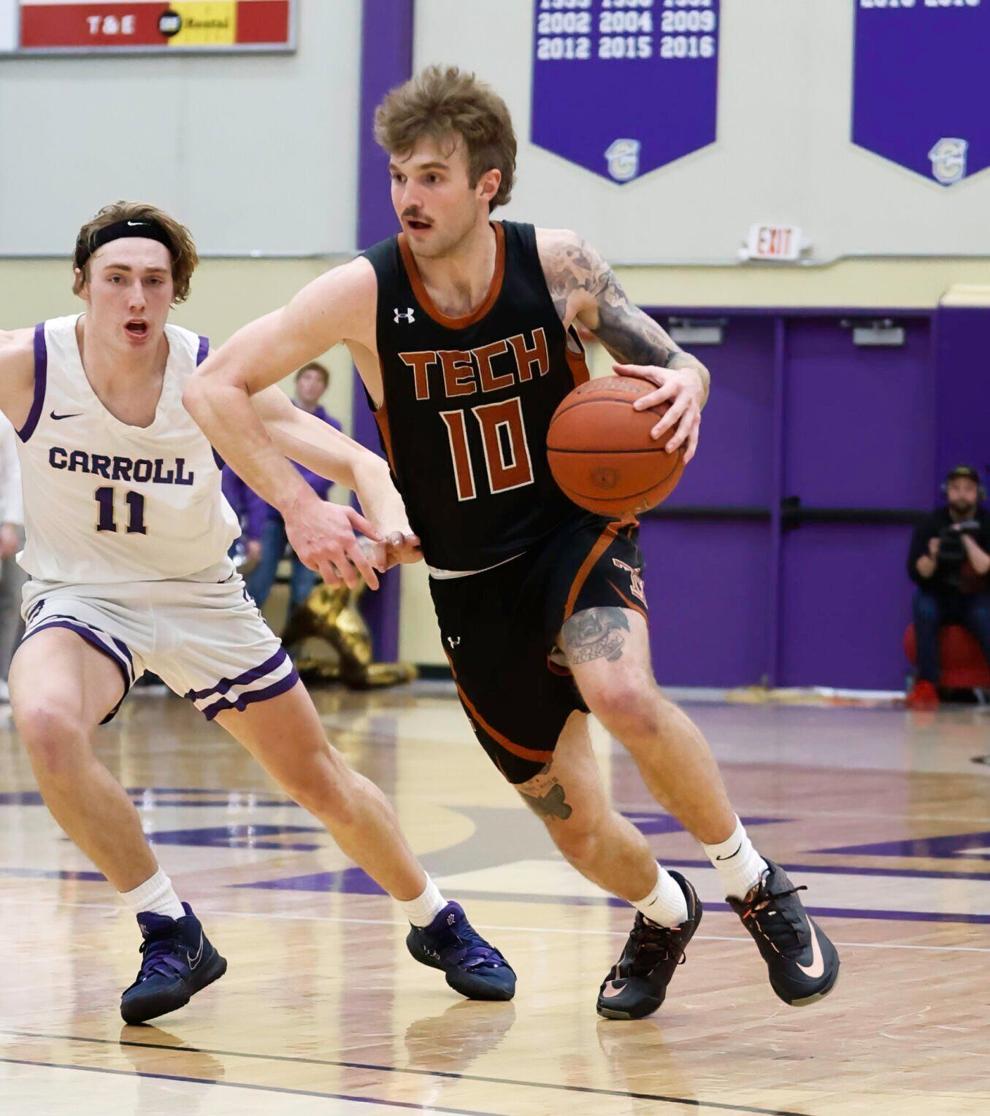 The 6-foot-7 junior scored 19 second-half points, but could never get the Orediggers over the hump.
His 3-pointer drew Tech within four mid-way through the second half, while Asa Williams triples pulled Tech within a point on two separate occasions.
Bellach finished with a game-high 27 points, on 8-for-22 shooting, and nine rebounds. He added three assists and three steals.
"They wanted it more than we did, that's what it comes down to," Bellach said. "Obviously it showed in the first half, we were down six. Fought our way back and then just couldn't get a stop down the stretch. They made their free throws, we didn't. They just wanted it more than we did.
"I'm proud of how we battled back in the second half, but we gotta figure out a way to close those [games] down the stretch."
Carroll sophomore Andrew Cook, who entered play right back Bellach in scoring, matched him with 16 second-half points.
A 4-for-6 effort from the field went a long way toward answering Tech runs and it was Cook's steal and subsequent free throws with under a minute left that sealed Carroll's victory.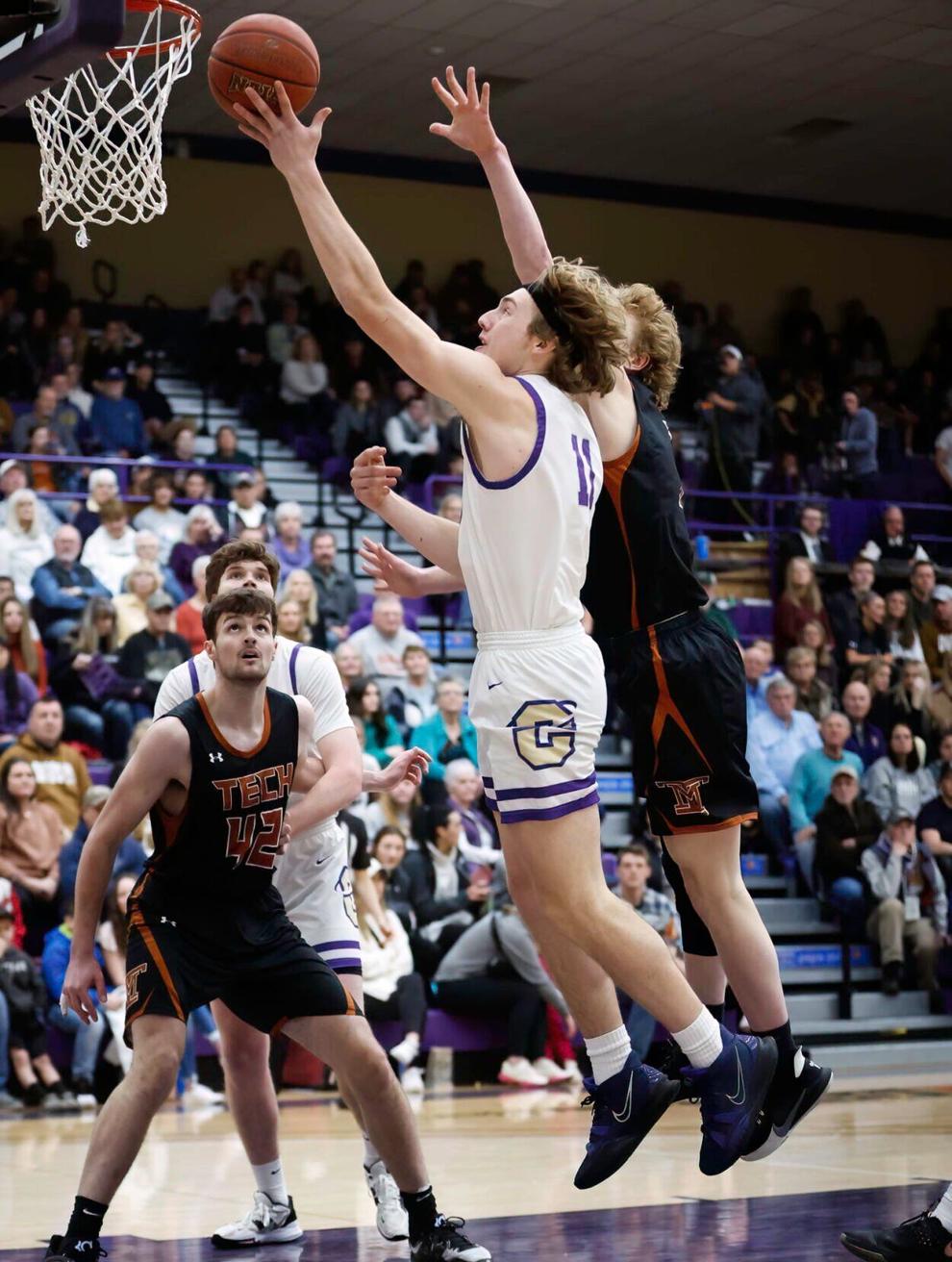 "These guys are inexperienced, so they need games like this to get better and make those plays," Paulson said. "Our team hasn't been in a game like that yet, but they played well in the moment."
Cook scored a team-high 24 points and dished out three assists.
Carroll's Gui Pedra scored double figures off the bench for the second consecutive game, adding 11 and supplying a dunk, off a back-cut, that put the Saints up three with under a minute to play.
Williams totaled 10 points for Tech, seven of which came in the second half. Michael Ure hit two 3-pointers as part of a 16-9 Tech spurt to begin the game and scored 10 points for the Orediggers. Keeley Bake chipped in 10 off the bench.
Tech, a team that got off to its best 20-game start in program history, falls to 18-3 overall and 6-2 in league play. A Providence win Saturday means there's a tie atop the men's standings with seven games to play.
The Orediggers and Argos play in Butte on Thursday.
"Obviously we're not happy right now, this sucks…[Carroll] is a good team," Bellach said. "We gotta bounce back next week against Providence. We have a big week coming up."
Carroll is all alone in third place following a Montana Western loss and is two games behind the league-leaders. Moreover, the Saints have now won back-to-back conference games after entering play 1-7 in their previous eight overall.
"It's been a rough four or five weeks, but the guys keep slugging away and getting in the weight room," Paulson said. "We were just waiting for something to turn. Thursday was a gut check and the guys performed tonight on a big stage."
"Just happy for the players. [Happy] to see some smiles."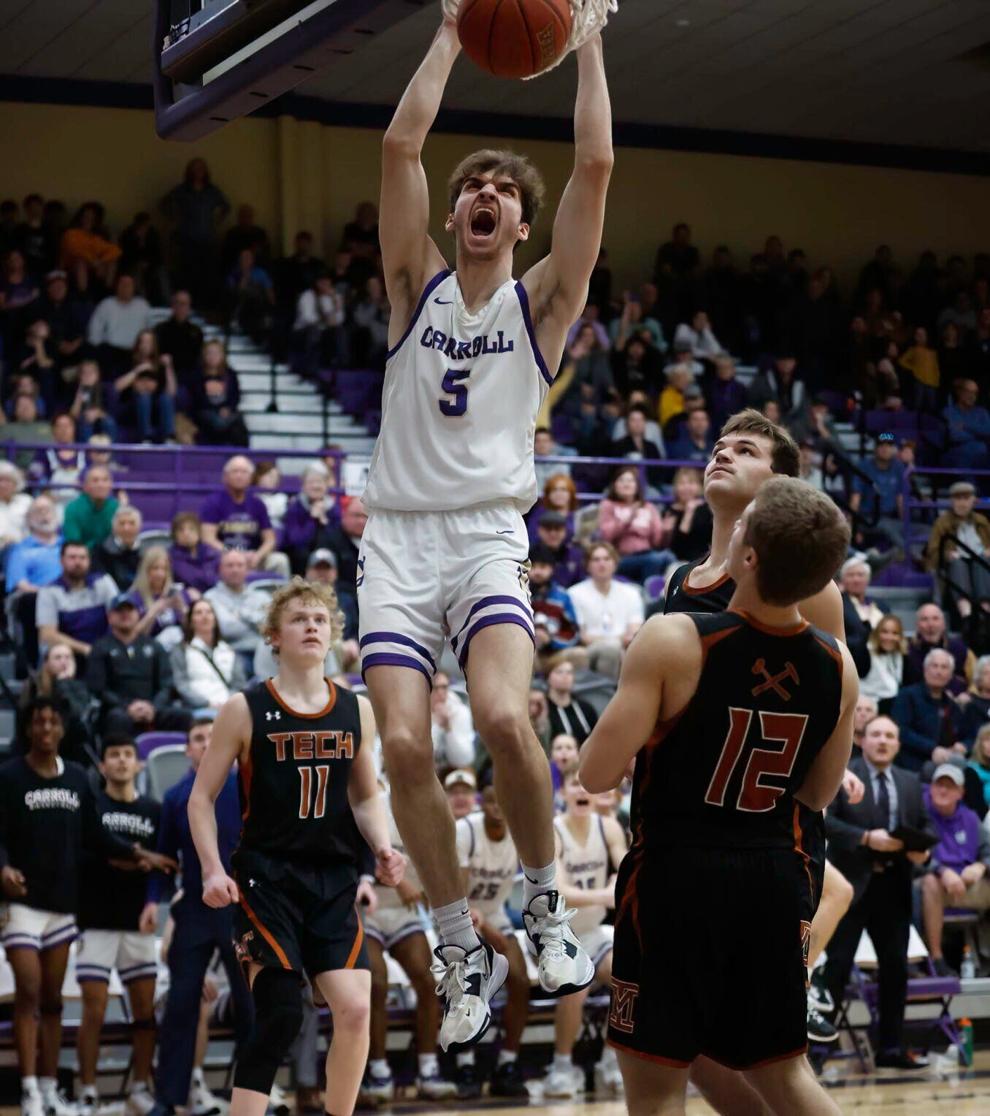 Carroll women beat Tech for 19th-straight time
It's a streak that's five years old, one the Saints extended to 19 games Saturday afternoon with a 72-46 victory over the Orediggers.
All three of Carroll's primary post players cracked double figures as Maddie Geritz led the way with 14 points.
Carroll outscored Tech 44-12 in the painted area, only turned the ball over six times and shot 46.6 percent (27-for-58) from the field.
"We made some changes and really had a focus to get the ball in the paint because we have really good post players…It's really changed things for us," Saints head coach Rachelle Sayers said.
"The posts are confident. You can only do that if you have a group of players that only care about the team's success. That's what we have and I think that's our competitive advantage."
Jamie Pickens added 12 points and six rebounds, while Genesis Wilkinson contributed 10 points and five rebounds off the bench.
Geritz's eight spurred a 19-point first quarter for Carroll that allowed the Saints to take an eight-point edge into halftime.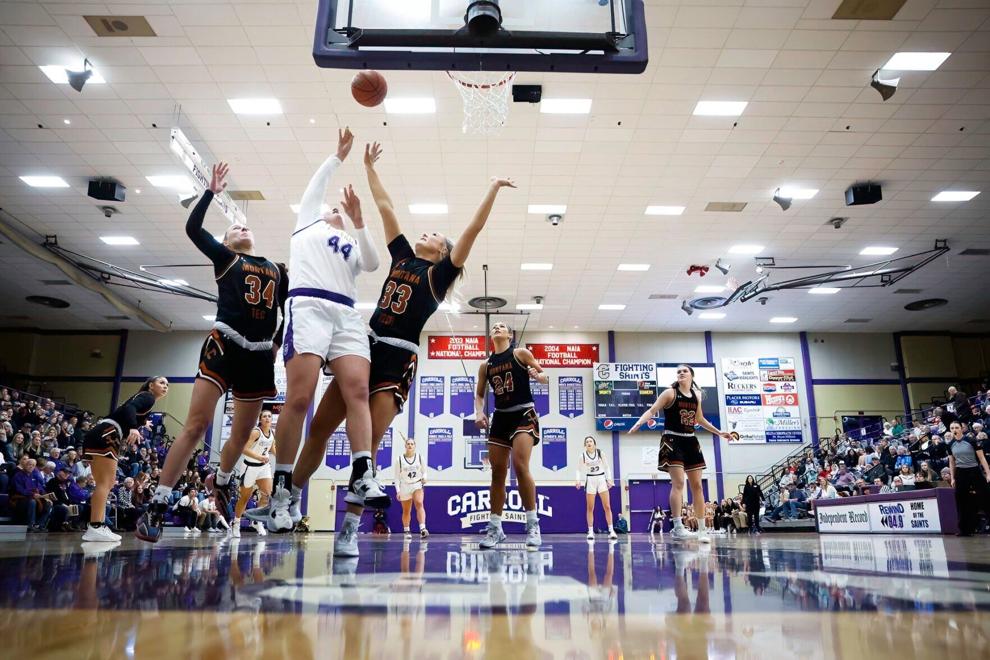 From there, Carroll outscored Tech 36-18 as the Saints shot 50 percent (14-for-28) in the game's final 20 minutes compared to the Orediggers' 24 percent (6-for-25).
Sayers said there was "no change" in what the Saints did defensively, adding that it was just "go time."
"Our guards were really getting out and pressuring," Geritz said. "That was a big emphasis this week when we were prepping – just really getting out there and trusting ourselves."
"Just getting them out of how they want to run their offense. When they're able to get into their offense, they're pretty efficient."
Tavia Rooney paced the Orediggers with 14, while Aubrie Rademacher scored 12 points. Soda Rice added nine and Challis Westwester chipped in five off the bench.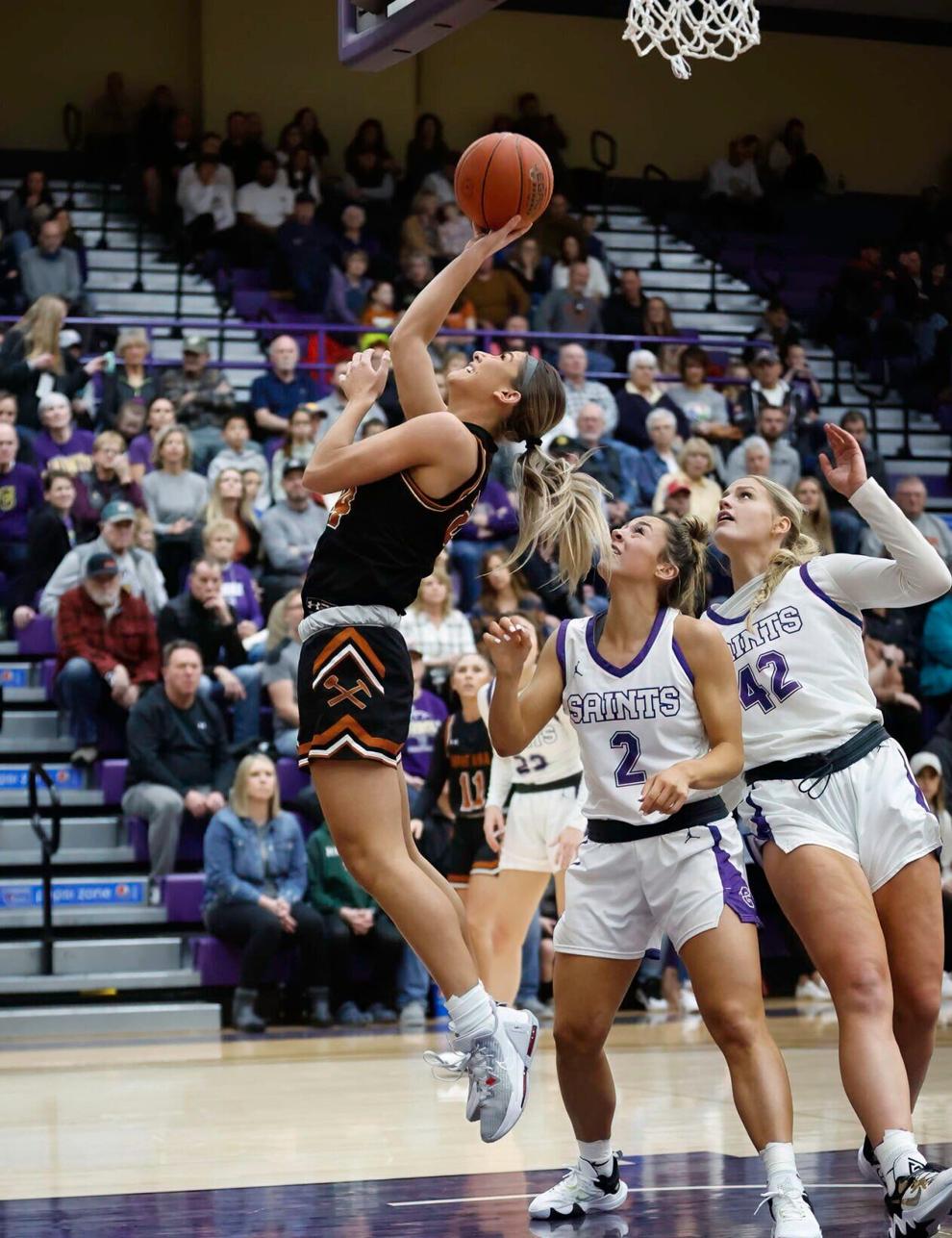 Tech shot 30.8 percent (16-for-52) from the field for the game, was outrebounded by nine and trailed for the game's final 35 minutes.
Kamden Hilborn scored 10 points and dished out six assists for Carroll, while Kyndall Keller added 11 points. Sienna Swannack scored seven points to go along with five rebounds, four assists and two steals.
The Orediggers fall to 6-12 overall and 2-6 in league play. They are currently tied with Providence for fourth in the conference standings.
Carroll improved to 16-5 overall and 7-1 in conference contests. The Saints are tied atop the league standings with Rocky Mountain College, making Thursday's home game against the Battlin' Bears for sole possession of first place.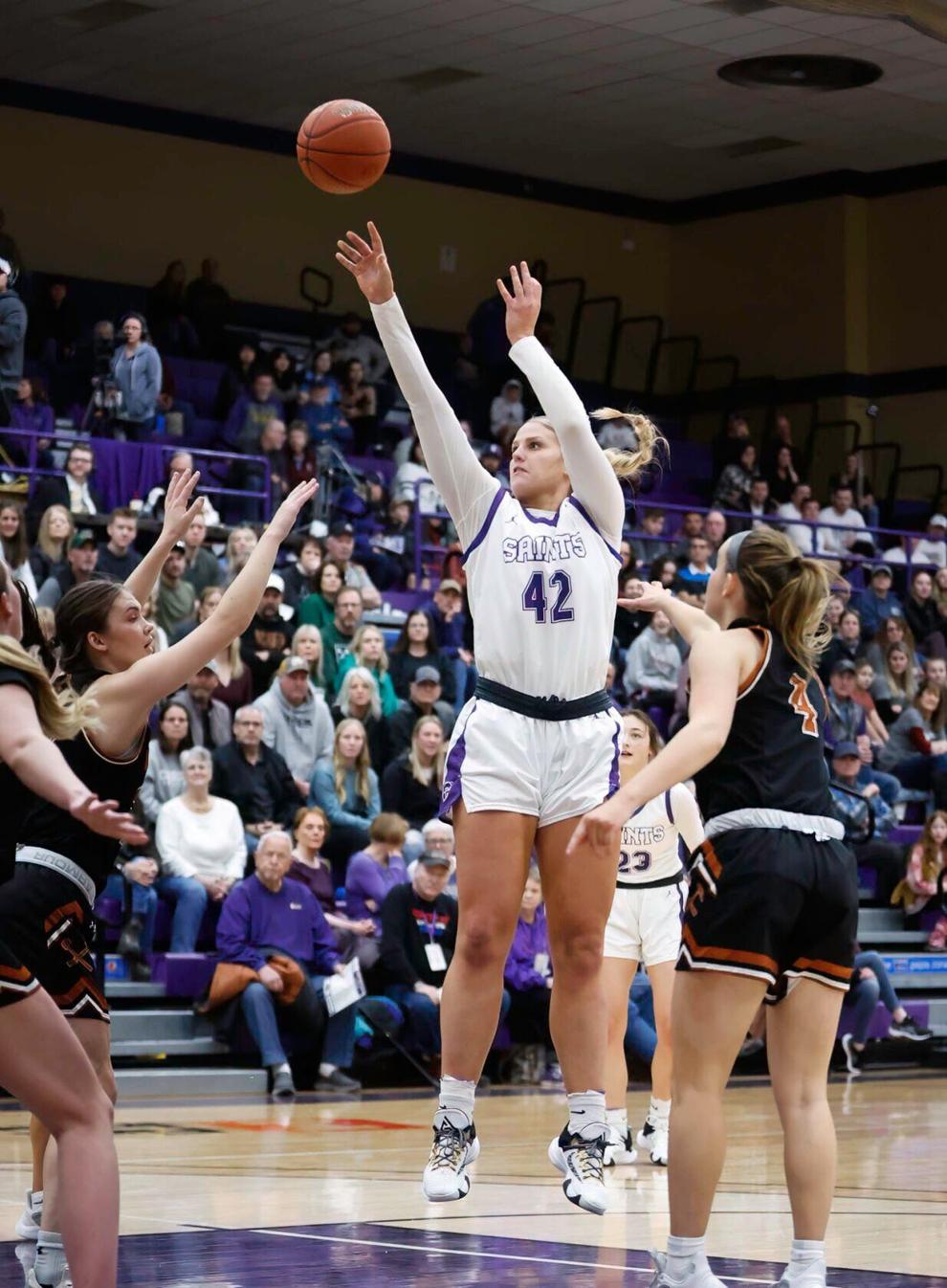 "I think we're playing our best basketball right now," Sayers said. "Saying that, I think we can still get better, but I think we are playing our best basketball."
"You have the consistent leadership, you have the experience, and on top of everything, we have some pretty good players. The players are making plays, and together, they're figuring out how to get this thing done."