MISSOULA — Sammy Fatkin is quickly emerging as a take-charge player for the Montana women's basketball team.
The senior guard collected a career-high 25 points and six rebounds and her team played solid second-half defense in a 72-51 win at North Dakota on Thursday afternoon. The Lady Griz moved to 2-1 with their first triumph over an NCAA Division I team.
Montana broke open a four-point game at halftime by outscoring the hosts 39-22 in the final two quarters.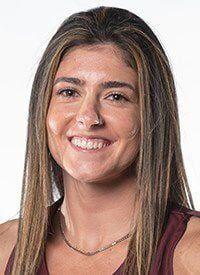 "I was curious how we'd do after a big game at home against a good (Gonzaga) team, and it went pretty much how I expected in the first half," Montana coach Brian Holsinger told KMPT radio. "We regrouped at halftime and came out and executed like I hoped."
Fatkin, who left the Lady Griz program in December of 2019 and returned this past summer, hit 9 of 17 shots from the floor and all four of her free throws. She also dished out a team-high four assists and grabbed three steals.
Fatkin's aggressiveness and confidence shooting the ball keyed Montana's 33-29 halftime advantage. She scored nine of her team's 18 points in the first period and totaled 16 points and four rebounds in the first half. 
The Lady Griz seemed to be in control when Carmen Gfeller hit a bucket to give them a 29-21 lead with 3:24 left in the first half. But North Dakota (0-3) used a pair of Maggie Manson 3-balls to pull within two, 29-27.
Holsinger stressed defense in his halftime talk and his team responded.
"I thought we could keep their big kid away from the basket a little bit better, but we have to have a better plan," Holsinger said of North Dakota 6-foot-6 center Melissa Leet, who scored 11 of her team-high 19 points in the first half. "Some of it is she's big and she's good and has good touch. We'll have to come up with some stuff as a staff to help out our kids in those situations."
Fatkin got a lot more scoring help from her teammates in the second half. Abby Anderson, Sophia Stiles and freshman Haley Huard all finished with 10 points. Huard also had nine rebounds. Freshman Dani Bartsch of Helena added nine points and nine rebounds senior leader Carmen Gfeller collected eight points and 10 rebounds.
"Carmen was tough as heck," Holsinger said of his junior stalwart and her defense. " ... Then I was proud to see some of our young players grow up. They're working, working and when you're a freshman, it's hard. It's fun to see our bench come in. They did a good job contributing on both ends."
Montana hit 30 of 67 shots and Fatkin and Huard showed promise from the 3-point line. Fatkin was 3 for 6 from deep and Huard 2 for 2.
North Dakota, which had trouble getting anything done from the perimeter, finished 18 for 60 shooting from the floor. The Hawks were 3 for 18 from 3-point range.
Montana had 15 assists on its 30 made field goals.
"You always take it," Holsinger said of the win. "You celebrate every victory. We fight for everything we get. That's what this program is going to be known for."
Notes: Reserve guard Lamprini Polymeni saw her first playing time for the Lady Griz. She missed her only shot ... Sentinel grad Kylie Frohlich, who was slowed by an ankle injury earlier this month, played six minutes and grabbed a rebound ... All three of North Dakota's losses have come by double digits ... Montana took a bus to Fargo after the game and will play at North Dakota State on Saturday at 7 p.m.