BOZEMAN — Marqui Johnson's transfer to Montana State happened quietly, at least compared to most college commitments.
On July 2, Johnson posted a tweet and Instagram post with no comment. All he included were a few photos of him in an MSU football uniform and, on Twitter, tags to five accounts: his father Ronald Johnson, his high school coach Jason Mohns, a training facility in Sacramento, MSU head football coach Brent Vigen and MSU wide receivers coach Justin Udy.
Marqui Johnson didn't need words to chart his path to Bozeman. He was born in Philadelphia, moved with Ronald to Arizona, became a standout athlete under Mohns at Saguaro High School (Arizona), signed with Sacramento State and transferred to MSU.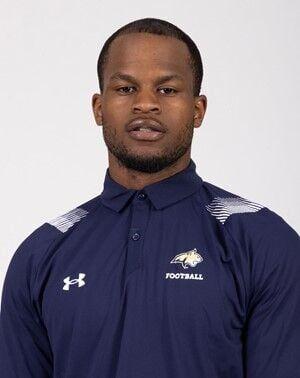 Johnson's social media posts have piled up as he's gone from an enigmatic newcomer to an electric contributor. The 5-foot-8, 163-pound redshirt sophomore has flashed game-breaking ability on offense and special teams through three games with the Bobcats (2-1) this season.
"He's a great kid," MSU running backs coach Jimmy Beal told 406mtsports.com on Monday. "He's dynamic enough that, it doesn't matter how big you are, when that ball's in his hands or the willingness to go and block somebody or whatever it is, he's going to get it done."
Johnson is a wide receiver, but Beal knows him well for a couple reasons.
One, Beal — whose recruiting area includes Arizona — tried to get Johnson to commit to MSU in 2018, when Johnson was a senior at Saguaro.
Two, Johnson has lined up at running back nearly as often as any Bobcat who actually sits in Beal's room for positional meetings.
MSU's All-American running back Isaiah Ifanse has spent all season recovering from knee surgery. Backup Lane Sumner has been out since injuring his elbow in a Week 2 practice. San Diego State transfer Kaegun Williams is out for the season with neck issues. True freshman Jared White underwent season-ending surgery last week. Garrett Coon just returned from injury. The only running back who's been healthy all three games is Elijah Elliott, who's been used sparsely.
Johnson only received one carry in Saturday's 68-28 loss to Oregon State, but he lined up in the backfield often and served as an effective decoy. A week earlier in a 63-13 win over Morehead State, Johnson rushed four times for 61 yards and two touchdowns.
"Anytime I touch the ball, I'm expecting to score," Johnson said Monday.
Johnson received carries both from a traditional running back spot and on sweep plays from the slot. He's gotten those looks due mainly to MSU's depleted running backs corps and partially because he played running back in high school.
"You watch him run a couple plays in that Morehead game where he could kind of speed up and slow down, change his pace. Then he's got a real burst," Vigen said Monday. "The instincts probably have somewhat to do with natural ability, but then reps. Reps playing that (running back) position at whatever age I think makes a difference."
Johnson said "I feel like I can do it all" from his current spot at slot receiver because he was such a versatile running back before college.
"Having that background kind of helped me in the slot, just being able to — when I get the ball — make moves and read the blocks and stuff like that," Johnson said. "Honestly, wherever they put me, I'm good to go."
Last week, Johnson returned a kickoff 98 yards for a touchdown to cut Oregon State's lead to 21-14. It was MSU's first kick return TD since 2015.
"We thought he was going to be a big weapon, and that proved against I think a really good team that takes their special teams very seriously," Vigen said. "Do we expect (TD) returns every game? I don't know. But I think we have that threat now."
A couple hours after Johnson's 98-yard return, Mohns tweeted that he'd "seen this before." He attached a video of Johnson returning a kick 90 yards for a score in the 2018 Arizona 4A state championship game, which was played at the University of Arizona's stadium (Arizona and Oregon State both play in the Pac-12).
"So this is not really new to me," Johnson said.
Thriving after transferring schools is not new to Johnson, either.
He switched to Saguaro after three seasons at Chaparral (both schools are located in Scottsdale, Arizona). That transfer violated an Arizona Interscholastic Association prior contact bylaw, and the AIA initially ruled him ineligible for the entire season, according to the Arizona Republic. But a temporary restraining order allowed Johnson to play the final seven games.
In those seven games, Johnson finished with 341 rushing yards, 505 receiving yards and double-digit touchdowns. He helped Saguaro win that 4A state title game.
"He's one of the three most dynamic playmakers I've ever coached," Mohns told 12 News in 2018, "and the other two are in the NFL right now."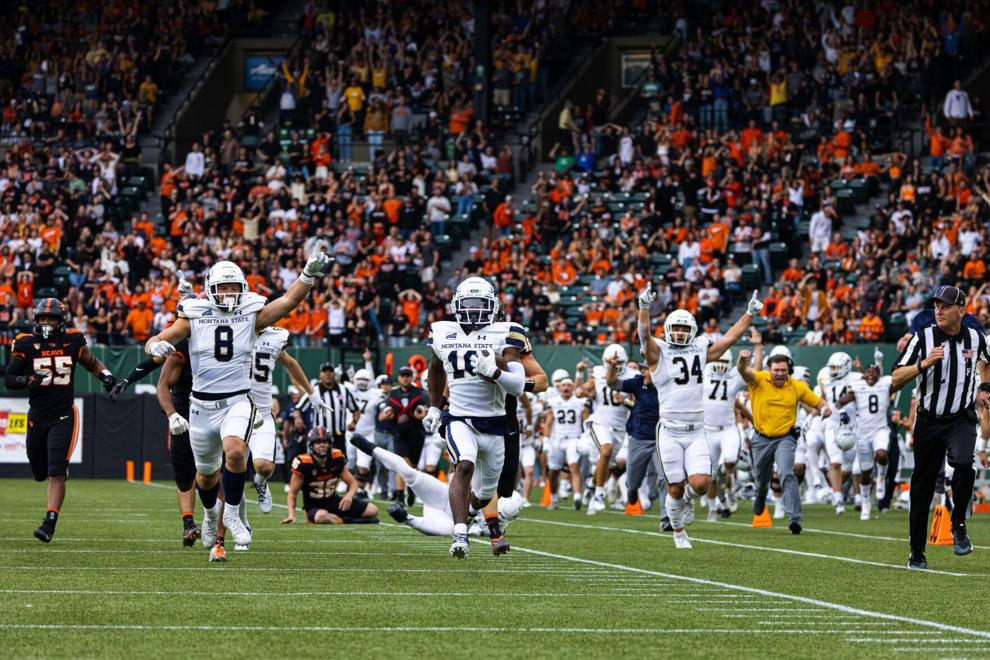 Those other two Saguaro graduates who made the NFL are current Jacksonville Jaguars receiver Christian Kirk and former New England Patriots and Arizona Cardinals running back D.J. Foster.
Johnson chose to transfer from Sac State because he wasn't getting as much playing time as he expected to, he said. Familiarity with Beal and MSU's Football Championship Subdivision runner-up finish contributed to Johnson's decision to stay in the Big Sky Conference.
The transition wasn't seamless. Johnson struggled in numerous fall camp drills and slipped to third string on MSU's "H" receiver depth chart entering the season.
"Coming in, I wouldn't say I was nervous, but anytime you go on a new team, you're kind of trying to find your way, find your role," Johnson said, adding, "The biggest thing for me was locking in more, just understanding what's at stake. Being on the team that went to the national championship and just seeing how everybody takes things so seriously, I had to match that energy."
Signs of future success started to show up at the end of fall camp. In MSU's final scrimmage on Aug. 20, Johnson caught a pass in the flat, made a defender miss and lost his cleat. The shoe-less Johnson ran for a big gain anyway.
"I wish he could've kept his shoe on and showed you really how fast he is," Udy, who's also MSU's special teams coordinator, said two days later. "We want our opportunities against man coverage, and he did on that play. He took advantage of it, and it was electric. I think everybody, at least on the offensive side, you could really feel it over there. It was a different type of play."